U.S. Ambassador to Pakistan: Who Is David Hale?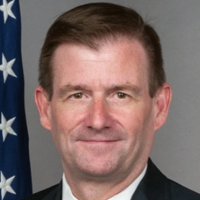 David Hale, a Middle East expert and career Foreign Service officer, will move from the U.S. embassy in Beirut to be ambassador to Pakistan, President Barack Obama announced on March 10, 2015. If he's confirmed by the Senate, Hale will take over from Richard Olson, who has held the Islamabad post since October 2012.
Born circa 1961, David Maclain Hale of New Jersey earned a B.S. in Foreign Service at the Georgetown University School of Foreign Service in 1983.
Joining the Foreign Service in 1984, Hale served early career assignments at the embassy in Manama, Bahrain; the consulate in Dhahran, Saudi Arabia; and as a political officer at the U.S. Mission to the U.N. in New York. He also studied Arabic at the Foreign Service Institute's Field School in Tunisia, and served his first tour at the embassy in Beirut as a political officer from 1992 to 1994.
In Washington, Hale served as executive assistant to Secretary of State Madeleine Albright from 1997 to 1998. Albright had been one of his professors when he was at Georgetown.
He served his second tour in Lebanon as deputy chief of mission at the embassy from 1998 to 2001, returning to Washington to serve as director of the Office of Israel and Palestine Affairs from 2001 to 2003.
Hale then served an extended tour at the embassy in Amman, Jordan, from 2003 to 2008, first as deputy chief of mission from 2003 to 2004, as chargé d'affaires from 2004 to 2005, and as ambassador from November 2005 to 2008.
From 2008 to 2009, Hale was a deputy assistant secretary of state in the Bureau of Near Eastern Affairs. After Obama took office, Hale was named deputy to Middle East peace envoy George Mitchell and took over as acting envoy in June 2011 when Mitchell stepped down.
Hale in 2013 was named ambassador to Lebanon and took over in Beirut on August 1 just as internal fighting in neighboring Syria was going on and the United States considered using military action in the country. Non-essential embassy personnel were being evacuated from the embassy in Lebanon as a precaution.
During his tenure in Beirut, Hale oversaw the sale of U.S. military equipment, including Hellfire missiles, to the Lebanese government.
-Matt Bewig, Steve Straehley
To Learn More:
State Department Cables 2001-2010 (WikiLeaks)