U.S. Ambassador to Nicaragua: Who Is Laura Dogu?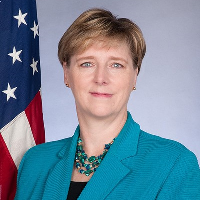 Laura Dogu (photo: U.S. State Dept.)
In May 2015, President Barack Obama nominated Laura Farnsworth Dogu, a career member of the Foreign Service, to be the next ambassador to Nicaragua. She was confirmed by the U.S. Senate on August 5. It is Dogu's first such post.
Dogu attended Southern Methodist University, earning BA and BBA degrees in 1985 and an MBA in 1989, as well as an MS from the National Defense University in 2007. Before joining the State Department, she was a marketing representative for IBM. Her business skills served her well later on.
Dogu's first overseas assignment was in 1991 in El Salvador, as a consular officer in the embassy in San Salvador. It was the first of many consular assignments for Dogu. Beginning in 1994, she was a consular and political officer in the U.S. embassy in Ankara, Turkey. She came home in 1996 to serve as a watch officer in the State Department operations center. The following year, she was made a staff assistant in the Bureau of Consular Affairs.
Dogu went overseas again 1999 as a consular officer, this time at the embassy in Cairo. She then returned to Ankara and served from 2002 to 2006 as the consular section chief there. In 2007, she was made Consul General in Ciudad Juarez, Mexico, just across the Rio Grande from El Paso, Texas. Part of her duties there involved dealing with American victims of the drug war that raged in the border region.
Dogu returned to Washington in 2010 as Deputy Executive Director in the Bureau of Consular Affairs. In 2012, she was made Deputy Chief of Mission in the embassy in Mexico City, a job she held until her nomination for the Managua post.
While serving in the State Department, Dogu has also put her business acumen to good use. She became a frequent poster on the personal financial planning forum Bogleheads.org and co-authored a book with others from the site, The Bogleheads' Guide to Retirement Planning. In 2012, Money magazine named her a champion of small investors.
Dogu is married; she and her husband, Aydin, have two sons. She speaks Spanish, Turkish and Arabic.
-Steve Straehley
To Learn More:
Embassy of the United States, Managua, Nicaragua (U.S. Department of State)