U.S. Ambassador to Montenegro: Who Is Margaret Uyehara?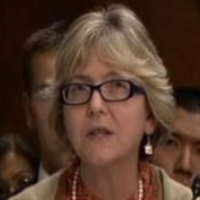 President Barack Obama nominated Margaret Ann Uyehara to be the U.S. ambassador to Montenegro on July 9, 2014. It would be the first ambassadorial posting for Uyehara, a career member of the Foreign Service.
Uyehara is from Berea, Ohio, and attended Kalamazoo College in Michigan, graduating in 1981 with a B.A. in political science.
Her first State Department posting was as a general services officer in the U.S. Embassy in Mali in 1983. In 1985, she was sent to the embassy in London as a consular officer. Other early overseas postings included disbursing officer at the embassy in Manila, Philippines, from 1989 to 1991; chief of special consular services at the U.S. Embassy in Tokyo from 1995 to 1998; liaison to the National Security Council for the 50th anniversary of the North Atlantic Treaty Organization summit; and from 1999 to 2002, Uyehara was a supervisory general services officer at the embassy in Jakarta, Indonesia.
Uyehara's Washington assignments have included being a general services officer in the Bureau of Personnel from 1991 to 1993 and director of the Office of Allowances from 2002 to 2005.
In 2006, Uyehara was sent to Kyiv, Ukraine, as management counselor at the U.S. embassy. She was moved to Frankfurt, Germany, in 2008 as director of the Regional Support Center at the U.S. Consulate. In 2010, she was named management counselor for the Department of State at the U.S. Tri-Missions in Vienna, Austria.
Her most recent assignment was as executive director of the Bureaus of European and Eurasian Affairs and International Organization Affairs in the Department of State in Washington.
Uyehara's husband, Michael, is also a Foreign Service office, currently serving in Belgrade, Serbia. They have three sons and two daughters. Uyehara speaks German, French, Ukrainian and Japanese.
-Steve Straehley
To Learn More: