U.S. Ambassador to Mexico: Who Is Maria Echaveste?
Monday, November 03, 2014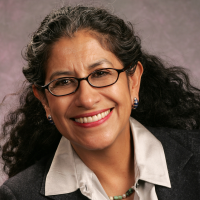 On September 18, 2014, President Barack Obama nominated Maria Echaveste to be the next U.S. ambassador to Mexico. If confirmed, Echaveste, the daughter of immigrants from Mexico, would be the first woman in the job.
Echaveste, the oldest of her family's seven children, was born May 31, 1954, in Harlingen, Texas, where her parents lived as part of the bracero program that brought Mexicans to the United States to work in the fields. They moved to Clovis in California's San Joaquin Valley when Echeveste was an infant and to Oxnard in Southern California when she was 12.
Beginning when she was eight years old, with her parents and her siblings, she harvested cotton, grapes, figs, peaches, tomatoes, strawberries and carrots. Of this period she recalled telling her mother, "It's too early, Mama, to get up, the sun's not even up. When can we take a break, Mama, I'm so tired." She also said, "Picking tomatoes was the worst, because you smelled so bad afterwards. I know we were out there because my family needed the money. But there is something wrong about children working when they're tired and hungry and cold or hot."
Echaveste attended Channel Islands High School and wrote a column about her school's events for the local newspaper. She earned a scholarship to Stanford University, but her father didn't want her to attend college. Echaveste, with the help of her mother, prevailed and she earned a bachelor's degree in anthropology in 1976.
After graduation, she worked for a while for the U.S. Commission on Civil Rights and then began law school at the University of California at Berkeley. After graduating in 1980, Echaveste went into corporate law, first in Los Angeles for the firm of Wyman Bautzer, then working on bankruptcy cases for Rosenman & Colin in New York beginning in 1988. During this period, she served on the board of the New World Foundation, a nonprofit agency that funds social service groups, with Hillary Clinton. She was also the president of New York City's Board of Elections.
In 1992, Echaveste was named a national Latino coordinator for Bill Clinton's presidential campaign. After the election, she was deputy to Warren Christopher, the head of Clinton's transition team and then in June she was named administrator of the Wage and Hour Division in the Department of Labor. Echaveste moved to the White House in 1997, first as director of the Office of Public Liaison and in 1998 as Clinton's deputy chief of staff, focusing on immigration, civil rights, education and other issues and coordinating disaster relief efforts in the United States and abroad.
When Clinton left office in 2001, Echaveste formed the Nueva Vista Group, a lobbying firm. The firm's clients range from the United Farm Workers to the pharmaceutical giant Pfizer.
In 2009, Echaveste was named a special representative of then-Secretary of State Hillary Clinton to Bolivia after the government there kicked out the U.S. ambassador. More recently, Echaveste has been a senior fellow at the Center for American Progress and in 2010 joined the board of the cross-border philanthropic group U.S.-Mexico Foundation. She's now policy and program development director of the Chief Justice Earl Warren Institute on Law and Social Policy at U.C. Berkeley's school of law.
Echaveste's husband, Christopher Edley, taught Barack Obama at Harvard Law School and subsequently was dean of the law school at the University of California at Berkeley.
She was previously married to Stanley Schlein, a prominent Bronx lawyer and power broker. Born into a Catholic family, Echaveste converted to Judaism in 1991. In 1999, she told Cox News, "I was raised a Catholic and had a very hard time with Catholicism, which was the source of another battle with my parents when I started not to go to church. It was very suffocating. You're someone's mother, someone's sister, someone's daughter. You're not a person in your own right. It's also very focused on the hereafter, as opposed to now. And especially, I think, in a Mexican household, there's a lot of resignation. It's 'whatever God wills.'
"I found Judaism to be much more life-affirming….It's about what you do every day, about how you use the blessings that you have every day and what you do with this life now, not what's going to happen to you post-death."
-Steve Straehley, David Wallechinsky
To Learn More:
Nominee for Envoy to Mexico Would Be First Woman, Daughter of Immigrants (by Joshua Partlow, Washington Post)
From California's Central Valley to Possibly 'Madam Ambassador' (by Michael Doyle, McClatchy)
The Great Persuader (by Gregg Zoroya, Los Angeles Times)
Against All Odds (by James Warren, Chicago Tribune)