U.S. Ambassador to Lithuania: Who Is Anne Hall?
Saturday, September 03, 2016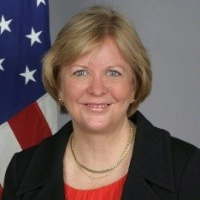 Anne Hall
Anne Hall, a career member of the Foreign Service, was confirmed by the Senate on July 14, 2016, to be the Ambassador to Lithuania. It's Hall's second stint in that country.
Hall is from Orono, Maine, daughter of Brad and Rose Anne Hall, and still maintains a home in the state. She graduated from Orono High School in 1977 and attended her hometown college, University of Maine, earning a B.A. in international relations in 1981. She went on to earn a combined M.A. and Masters in Public Affairs from the University of Texas in 1987. Hall joined the Foreign Service that year.
Early postings for Hall included Economic Officer in Brazil and Consular Officer in Colombia, as well as a stint as Peru Desk Officer. In 1993, she joined the Executive Secretariat Staff of the Secretary of State and the following year was made a special assistant to Secretary Warren Christopher.
Hall was sent to Shanghai in 1997 as consular section chief. She returned to Washington in 2000 as a special assistant in the Bureau of Consular Affairs. The next year, she moved to the post of desk officer in the Office of Nordic and Baltic Affairs.
She had a brief stint in 2003 as the consul general in Edinburgh, Scotland, before being named senior Cyprus officer in the Office of the Special Cyprus Coordinator, where she participated in negotiations leading to the United Nations settlement of the Cyprus problem in 2004. In 2006, Hall was made U.S. consul general in Krakow, Poland. She left there in 2009 to be Deputy Chief of Mission in Vilnius, Lithuania, serving as Chargé d'Affaires in 2012 and 2013. She then served as Director of the Office of Central European Affairs in the Bureau of European and Eurasian Affairs. In 2014 she was named acting Principal Deputy Assistant Secretary in the Bureau of Oceans, International Environmental and Scientific Affairs, a job she held until being named Ambassador.
Hall speaks Polish, Spanish, Lithuanian, Portuguese and Mandarin.
-Steve Straehley
To Learn More: