U.S. Ambassador to Libya: Who Is Peter Bodde?
Sunday, November 08, 2015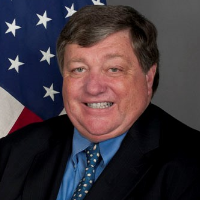 Peter Bodde
Peter Bodde, a career member of the Senior Foreign Service who most recently was ambassador to Nepal, was nominated July 7, 2015, by President Barack Obama to be the next ambassador to Libya.
The son of William and Ingrid Bodde, Peter Bodde was born in October 1954. His father was a Foreign Service officer who served as U.S. ambassador to Fiji, Tuvalu and Tonga (1980-1981) and ambassador to the Marshall Islands (1990-1992). His brother, Christopher Scott Bodde, was also a Foreign Service officer.
Peter Bodde earned his BA in government and politics at the University of Maryland in 1976, and then worked as a commodity industry analyst with the U.S. International Trade Commission.
Bodde joined the Foreign Service in 1981, and served early career assignments at the embassy in Kathmandu, Nepal, from 1982 to 1984; as minister counselor for Administrative Affairs at the embassy in New Delhi, India; in Copenhagen, Denmark; Sofia, Bulgaria; at the consulate in Hamburg, Germany; as deputy chief of mission at the embassy in Kathmandu, from 1994 to 1997; and in Georgetown, Guyana. He has also served in various State Department positions in Washington, most recently as the director of the management policy in the Office of Management Policy, Rightsizing and Innovation.
From 2002 to 2006, he was consul general at the U.S. Consulate in Frankfurt, Germany. From February 2006 to August 2008, he was deputy chief of mission at the embassy in Islamabad, Pakistan. Bodde served as ambassador to Malawi from 2008 to 2010. He next served as assistant chief of mission for assistance transition in Iraq and coordinator for minority issues at the embassy in Baghdad. In Iraq, he focused on the energy sector.
Bodde returned to Nepal as ambassador in 2012. While there, he worked to build relationships with Nepal's young people through a youth council of 50 Nepalis chosen from hundreds of applicants. He also helped coordinate U.S. relief efforts for the April 2015 earthquake that devastated the country.
While Bodde's confirmation to the Nepal post was fairly routine, his next hearings might be more difficult. Republicans who now control the Senate may take the opportunity to bring up the 2012 attack on the Benghazi consulate in which a previous U.S. ambassador to Libya, Christopher Stevens, and three other Americans died.
Bodde is married to Tanya Lee Will Bodde, a retired Foreign Service employee. They have one daughter, Sara, and one son, Christopher, who works for the U.S. Agency for International Development. Peter Bodde speaks German, Bulgarian, and Nepali.
-Matt Bewig, Steve Straehley
To Learn More:
An Interview with Peter Bodde, U.S. Ambassador to Nepal (by Forrest Lin, The Politic)
Certificate of Demonstrated Competence (Committee on Foreign Relations, U.S. Senate)