U.S. Ambassador to Kuwait: Who Is Lawrence Silverman?
Sunday, September 04, 2016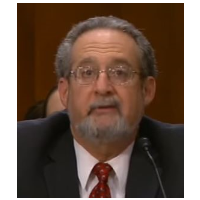 Lawrence Silverman (photo: YouTube)
Lawrence R. Silverman was confirmed July 14, 2016, as the United States' Ambassador to Kuwait. It's the first such job for the career member of the Foreign Service.
Silverman attended Brandeis University, earning a B.A. in 1977 and went on to earn an M.A. in political science from Duke in 1980.
Silverman's early assignments abroad included South Africa, Syria and Jordan. Beginning in 2000, he was a political counselor at the embassy in Ankara, Turkey. He returned to Washington the following year as special assistant to the Assistant Secretary for Near Eastern Affairs. In 2002, Silverman was made deputy director of the Office of Southern European Affairs, responsible for Turkey, Greece and Cyprus.
Silverman was made Deputy Chief of Mission in the embassy in Bratislava, Slovakia, in 2005. He was back in the State Department in 2008, this time as Director of the Office of Ukraine, Moldova and Belarus Affairs. He also served during this period as deputy coordinator of U.S. assistance to Europe and Eurasia.
In 2011, he was made special assistant for Europe and Russia to Vice President Joe Biden. The following year, Silverman became a Deputy Assistant Secretary for Near Eastern Affairs, responsible for Syria, Jordan, Lebanon, Israel and the Palestinians. He was a point man for the State Department in relations with those countries and helped coordinate aid for Syrian refugees in Lebanon. Silverman turned down a chance to become Ambassador to Lebanon in 2015 because of health reasons, and remained a Deputy Assistant Secretary until accepting the Kuwait post.
Silverman's wife, Vicki, is a former Foreign Service Officer. They have two children, Lina and David.
Silverman speaks Arabic, Turkish and Slovak.
-Steve Straehley
To Learn More: