U.S. Ambassador to Indonesia: Who Is Joseph R. Donovan Jr.?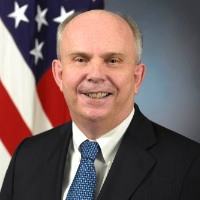 Joseph Donovan
Joseph R. Donovan Jr. was confirmed on September 28, 2016, to be the next U.S. ambassador to Indonesia. It's the first such posting for Donovan, a career member of the Foreign Service.
Donovan was born and raised in Goshen, New York. He attended Georgetown University, earning a B.S. in Foreign Service in 1973. He went on to earn an M.A. in national security studies from the Naval Postgraduate School 1993. After graduating from Georgetown, Donovan served as a Peace Corps volunteer for two years in Seoul, South Korea.
Donovan would spend almost all of his career dealing with East Asia. His early assignments with the State Department included stops in Taiwan, China, South Korea and Qatar.
In 1997, Donovan was named chief of the political/military unit in the embassy in Tokyo. His next posting was in Taipei, Taiwan, as the political section chief in the American Institute in Taiwan, which represents U.S. interests in that nation. He returned to Washington in 2003 as director of the Office of China, Hong Kong and Mongolia Affairs.
Donovan returned to Tokyo in 2005, this time as deputy chief of mission in the embassy there. During his tenure, he had to help manage the reaction to a U.S. Marine being accused of raping a girl in Okinawa.
In 2008, Donovan was named consul general for Hong Kong and Macau. The following year, he was brought home to serve as principal Deputy Assistant Secretary in the East Asia and Pacific Bureau. Donovan had a short stint as an associate professor at the National War College in 2011 and 2012 before being named foreign policy adviser to the Chairman of the Joint Chiefs of Staff. In 2014, he was named managing director of the American Institute in Taiwan's Washington office, a post he held until becoming ambassador.
Donovan's wife, Mei Chou Wu, is from Taiwan. They have two sons.
-Steve Straehley
To Learn More: