U.S. Ambassador to Guyana: Who Is Perry Holloway?
Saturday, October 25, 2014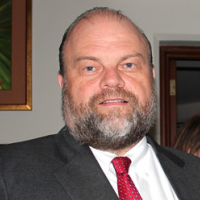 On July 24, 2014, President Barack Obama nominated Perry L. Holloway, a career Foreign Service officer, to be the U.S. ambassador to Guyana. If confirmed by the Senate, it will be the first ambassadorial posting for Holloway.
Holloway is from South Carolina and graduated from North Augusta High School in 1979. He went on to attend Wofford College in Spartanburg, South Carolina, graduating with a Bachelor's degree in foreign languages literature and linguistics in 1983. While there, he studied as an exchange student in Spain. Holloway went to graduate school at the University of South Carolina, earning a Master's in international business sciences in 1986. One of his first jobs out of college was as a manager at a Radio Shack store and he later worked for Apple in Mexico. He joined the Foreign Service in 1989.
Holloway has spent the vast majority of his career in Central and South America. His first overseas posting, in 1989, was as a consular officer in the U.S. Embassy in Bogota, Colombia, subsequently becoming staff assistant to the ambassador there. In 1992 he was made a general services officer at the embassy to El Salvador and in 1994 was an administrative officer for the U.S. Consulate in Tijuana, Mexico. Holloway went to the embassy in Quito, Ecuador in 1997 as a general services officer.
He began working in the anti-drug effort in 2000 when he was named director of the Narcotics Affairs Section of the embassy in Guatemala City. In 2003 he took time off to do graduate work at the Industrial College of the Armed Forces, earning a Master's in national resource strategy before being named in 2004 as the Andean drug coordinator at the Department of State.
Holloway returned to Latin America in 2005 when he was named deputy director, then director of the Narcotic Affairs Section at the embassy in Bogota. In August 2009 he was named deputy chief of mission at the U.S. Embassy in Asuncion, Paraguay and returned to Bogota in a similar post a year later, remaining in that position for four years. His one assignment outside Latin America came in 2013 when he was a political-military counselor at the U.S. Embassy in Kabul, Afghanistan.
As might be expected, Holloway speaks Spanish fluently. He and his wife, Rosaura, have two children.
-Steve Straehley
To Learn More:
Home Is Where the Foreign Service Sends Him (by Jo Ann Mitchell Brasington, Wofford Today)
State Department Cables 2008-2010 (WikiLeaks)