U.S. Ambassador to Guinea: Who Is Dennis Hankins?
Saturday, October 31, 2015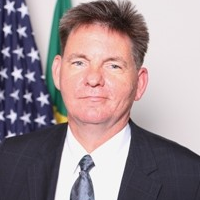 Dennis Hankins
Dennis Hankins, a career Foreign Service officer, was nominated on July 8, 2015, to be the next ambassador to Guinea. He was confirmed by the Senate on Oct. 22. It is the first such posting for him.
Hankins' father, Bruce, was an engineer with Esso and worked in Europe and South America. While Hankins was still a youngster, his mother, Margie, brought him and his brother, Knute, to Bemidji, Minnesota, for a more stable place to live. Hankins graduated from Bemidji High School in 1977. He evidently missed traveling the world, because he went to Georgetown University's School for Foreign Service, graduating in 1981. He has an MA from the National War College.
Hankins joined the Foreign Service, with his first overseas posting coming as a vice consul in Recife, Brazil, in 1985. Thailand was another early posting. From 1989 to 1991, Hankins worked in Sudan and by 1992 he was consul in Haiti. There he dealt with boat people who had been returned to that country by order of President George H.W. Bush. As consul, he took requests for asylum from those wanting to leave the then-violent country. Few requests were granted.
Hankins returned to Africa in 1996 as a political/economic counselor in Kinshasa, Democratic Republic of the Congo, in the midst of the civil war that consumed that country then. In 1999, he got another assignment as a political/economic counselor, but this time in Lisbon, Portugal. He was sent back to Africa in 2001 as the Deputy Chief of Mission in Maputo, Mozambique.
In 2004, Hankins went to Riyadh, Saudi Arabia, as consul general there. He returned to Washington in 2005 as deputy director in the Office of Peacekeeping in the Bureau of International Organizations. He was sent back to Africa in 2007 as Deputy Chief of Mission in Nouakchott, Mauritania, then returned to Khartoum, Sudan, as Deputy Chief of Mission there. In 2012, he was named Consul General in Sao Paulo, Brazil.
Hankins and his wife, Mira, have a son, Danu, who is a U.S. Navy officer. Hankins speaks French and Portuguese. One of his pledges as ambassador is to help Guinea in its continuing efforts to fight the ongoing Ebola epidemic.
-Steve Straehley
To Learn More:
Dennis B. Hankins Testimony (pdf) (U.S. Senate Committee on Foreign Relations)
Obama Nominates Bemidji High School Graduate as U.S. Ambassador to Guinea (Bemidji Pioneer)