U.S. Ambassador to France: Who Is Jane Hartley?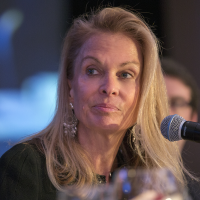 On July 15, 2014, the Senate Foreign Relations Committee held a hearing into the nomination of Jane D. Hartley to be the next U.S. ambassador to France. It would be the first ambassadorial posting for Hartley, who was a major contributor and bundler in Barack Obama's two presidential campaigns.
Hartley, 64, is from Waterbury, Connecticut, where her father, James, ran a construction company and her mother, Dorothy, was a real estate broker. She graduated from Newton College of the Sacred Heart in Massachusetts with a B.A. in political science and economics; the college merged with Boston College in 1974.
Hartley got an early start in politics. In 1974, she was executive director of the Democratic Mayors Conference for the Democratic National Committee. Then, in 1977, she went to work in the Carter Administration, first as director of Congressional relations for the Department of Housing and Urban Development and in 1978 as a senior assistant in the White House Office of Public Liaison.
After Jimmy Carter lost his re-election bid in 1980, Hartley moved into the private sector as vice president of corporate communications for Westinghouse Broadcasting and vice president for new markets development for Group W Cable.
In October 1983, Hartley married Ralph Schlosstein, another former Carter White House official who was associate director of the White House domestic policy staff. Schlosstein has since gone on to help found money management firm BlackRock (which is now the world's largest asset manager) and currently is chief executive officer of investment banking firm Evercore.
Hartley was named vice president for marketing for MCA's broadcasting unit in 1985. She became vice president and station manager for New York television station WWOR in 1987, working there until 1989. Under her watch, the station made a disruptive move in the television syndication market when it agreed to pay $40 million for rights to broadcast "The Cosby Show." The deal pushed the price of the program higher in almost every market in the country.
In 1993, Hartley went to work for the G-7 Group, first as chief operating officer and in 1995 as chief executive officer. G-7 offered advice and analysis to G-7 countries on how government policies affect financial markets.
Since 2007, Hartley has been chief executive officer of the Observatory Group, a company which she co-founded that advises multinational corporations on how developments in government policy can affect their businesses.
Hartley and Schlosstein have been active in Democratic politics. In the 2012 campaign, Hartley is credited with bundling at least $500,000, and possibly up to $1.4 million, for Obama's re-election effort. In 2011 she and Schlosstein hosted a $71,600-per-couple fundraiser for Obama. She has also contributed to the campaigns of numerous Democratic Congressional candidates.
The couple is also active in charity efforts, establishing a foundation to provide scholarships and giving to other causes.
Since 2012, Hartley has been a member of the board of directors of the Corporation for National and Community Service and is a member of the Council on Foreign Relations. In June 2012, she became vice chairman of The Economic Club of New York.
She has a daughter, Kate, and a son, Jamie.
-Steve Straehley
To Learn More: