U.S. Ambassador to Botswana: Who Is Earl R. Miller?
Saturday, September 27, 2014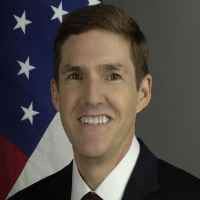 On July 29, 2014, the Senate Foreign Relations Committee held a hearing on the nomination of Earl Robert Miller, a career Foreign Service officer, to be the next U.S. ambassador to Botswana. It would be the first ambassadorial post for Miller. Botswana hosts the U.S. Air Force, and the United States is the leading purchaser of Botswana's most important export: polished diamonds.
The son of Robert James Miller and Wanda Miller, Miller attended the University of Michigan, where he earned a B.A. in journalism in 1981. He went into the U.S. Marine Corps after graduation, serving on active duty until 1984. Miller then worked as a supervisor at Arantek, a Santa Clara, California, electronics company until 1987. He continued serving in the Marine Corps Reserve until 1992, doing a tour during the first Gulf War.
He then went into the Foreign Service, focusing on diplomatic security. Some of his early positions were Southern Africa desk officer for the Diplomatic Security Service (DSS), a DSS special agent in Miami, assistant regional security officer in El Salvador and a DSS special agent in San Francisco.
In 1995, Miller began his first tour in Botswana as a regional security officer (RSO) at the U.S. Embassy in Gaborone. He served there three years until he was brought back to the United States as the assistant special agent in charge for the DSS in Boston.
Miller went overseas again in 2000 as RSO at the U.S. Embassy in Kuala Lumpur, Malaysia. In 2003 he took on a similar post in Jakarta, Indonesia. While there, he helped investigate an August 31, 2002, terrorist ambush in Papua province that killed two U.S. schoolteachers and wounded eight other U.S. citizens, an investigation that lasted almost four years and culminated in the arrest of 12 terrorists.
In 2007, Miller was sent to Baghdad as RSO, leaving his wife Ana and their two sons, Andrew and Alexander, behind in Jakarta. He was assigned to the embassy in New Delhi, India, the following year, serving there until 2011.
In 2011, Miller was named consul general at the U.S. consulate in Johannesburg, South Africa, where he served until his nomination to the Botswana post.
Miller speaks Indonesian, Spanish and French.
-Steve Straehley
To Learn More:
Testimony before the Senate Committee on Foreign Relations (pdf)