U.S. Ambassador to Benin: Who Is Lucy Tamlyn?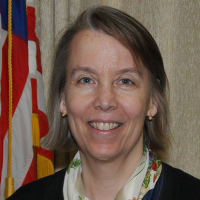 Lucy Tamlyn, a career Foreign Service officer, was nominated on March 24, 2015, by President Barack Obama to be the next ambassador to the West African nation of Benin. It will be the first time Tamlyn has served as an ambassador.
Tamlyn is from New York, where her father Thomas was a cardiologist. Tamlyn has foreign service in her blood; Thomas served in 1969 off Tunisia on the S.S. Hope, a ship that took medical care to underserved areas. Tamlyn's mother, Ann, ran unsuccessful races for Congress from Maryland years later.
Tamlyn attended St. John's College, a "great books" institution in Annapolis, Maryland. She graduated in 1978 and earned an M.A. from Columbia University's School of International Affairs in 1980.
Tamlyn joined the Foreign Service in 1982. She worked in the Manufacturer's Import Promotion Office of the Japan External Trade Organization and added early assignments in Austria and Colombia, followed by a posted to Mozambique in the Office of Multilateral Trade Affairs. After serving as a political officer in Brazil starting in 1997, in 2000 Tamlyn was named alternate permanent representative at the U.S. mission to the United Nations Agencies for Food and Agriculture in Rome. She moved to New York in 2003 as the alternate permanent representative to the UN in the U.S. mission's economic and social council section. During that period, she defended the George W. Bush administration's refusal to sign on to the UN Agreement on Population and Development because of Bush's opposition to family planning.
In 2005, Tamlyn went overseas as the deputy chief of mission in N'Djamena, Chad. Three years later, she did her mandatory tour in Iraq as leader of the Kurdistan Region Regional Reconstruction Team in Erbil. In 2009, she worked with multilateral organizations as economic counselor to the U.S. mission to the Organization for Economic Cooperation and Development in Paris. Tamlyn was sent to Lisbon in 2011 as the deputy chief of mission in the U.S. embassy in Portugal and returned to the State Department in Washington in 2013 as director of the Office for the Special Envoy for Sudan and South Sudan.
In 1990, Tamlyn married Portuguese native Jorge Serpa, whom she met in Mozambique. They have two children, Benjamin and Filipa. She speaks French and Portuguese.
-Steve Straehley
To Learn More:
Heat of Battle: Ambassador Stays during Failed Coup (by Lucy Tamlyn) (pdf)
State Department Cables 2002-2009 (WikiLeaks)