U.S. Ambassador to Armenia: Who Is Richard Mills?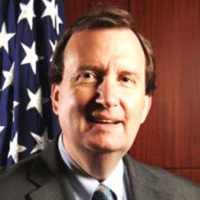 On September 17, 2014, the Senate Foreign Relations Committee held a hearing on the nomination of Richard M. Mills Jr., a career Foreign Service officer, to be the next ambassador to Armenia. If confirmed, it would be the first ambassadorial posting for Mills and a homecoming of sorts; he was the first State Department desk officer for Armenia after the breakup of the Soviet Union in the early 1990s.
Mills is from Texas and attended Georgetown University, earning his B.S. in Foreign Service in 1981. His next stop was law school at the University of Texas in Austin, where he earned a J.D. in 1984. Mills practiced law for a few years as an associate at the Washington law firms of Wickwire, Gavin and Gibbs and subsequently Duncan, Allen and Mitchell until 1987.
His first assignment after joining the Foreign Service came in 1988 as a consular officer and staff aide at the U.S. Embassy in Paris. In 1990, Mills was back in Washington as a desk officer in the Bureau of Soviet Union Affairs and then was made desk officer for Armenia and Azerbaijan. He was sent to Russia in 1993 as a political officer in the St. Petersburg consulate.
Mills returned to the State Department in 1995 as a legislative affairs officer and the following year was a line director in the Executive Secretariat in the office of the Secretary of State. He was sent to Ireland in 1999 as the economic/commercial officer at the embassy in Dublin until 2001, when he was assigned as political officer at the U.S. mission to the United Nations in New York.
In 2003, Mills was sent to Pakistan as political officer at the U.S. Embassy, and in 2005 to Riyadh, Saudi Arabia as economic officer and acting economic counselor at that embassy. Next, he was moved to London as political officer in 2006, but he returned to the Middle East in 2009 as a senior democracy advisor in Baghdad, Iraq.
Mills went to Malta in 2010 as deputy chief of mission, and for a time as chargé d'affaires, at the embassy in Valetta. While there, he helped coordinate the evacuation of Americans and other foreign nationals from Libya during the unrest in that country in 2011. He also helped dedicate the new U.S. Embassy in Malta. In 2012, Mills went to Beirut as deputy chief of mission, where he served until his nomination.
One of the challenges Mills must face as ambassador to Armenia is that 2015 will be the 100th anniversary of the genocide of Armenians at the hands of the Turks. Mills was careful not to use the word "genocide" in his confirmation statement, but noted that he would work toward an acknowledgement by Turkey of "a full, frank, and just acknowledgement of the facts so that both nations can begin to forge a relationship that is peaceful, productive, and prosperous."
Mills is married to Leigh Carter, a former Foreign Service officer. He speaks French and Russian.
-Steve Straehley
To Learn More:
Statement to the Senate Foreign Relations Committee (pdf)
State Department Cables 2005-2009 (WikiLeaks)