U.S. Ambassador to Algeria: Who Is Joan Polaschik?
Saturday, August 09, 2014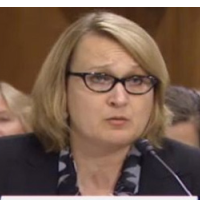 On June 24, 2014, the Senate Foreign Relations Committee sent the nomination of Joan A. Polaschik to be the U.S. ambassador to Algeria to the full Senate for its approval. It would be the first ambassadorial posting for Polaschik, who is a career Foreign Service officer.
Polaschik is from Alexandria, Virginia, and attended the University of Virginia, earning a B.A. in Russian studies and foreign affairs. She subsequently earned an M.S. in foreign service from Georgetown University in 1993.
Polaschik's first posting with the Foreign Service was in 1995 to Tashkent, Uzbekistan, as the consular and general services officer in the U.S. Embassy. In 1997 she had her first assignment in North Africa, as political officer in the embassy in Tunis, Tunisia. She returned to Washington in 1999 as a staff assistant in the State Department's Bureau of Near Eastern Affairs, then in 2000 as Iran desk officer.
In 2001, Polaschik was sent to Amman, Jordan, as regional refugee coordinator, with part of her work there involving dealing with refugees from the Iraq war. Polaschik was posted to Baku, Azerbaijan, in 2005 as counselor for political and economic affairs at the U.S. Embassy.
Polaschik was sent to Tripoli, Libya, in 2009 as deputy chief of mission. It turned out to be an eventful posting. In 2010, Polaschik first made news by taking the heat from Libyan officials for an offhand remark made by State Department spokesman P.J. Crowley at a briefing in Washington. Libyan leader Moammar Gadhafi had declared a jihad on Switzerland for banning construction of minarets. Crowley mocked the declaration and Polaschik was summoned by members of Libya's foreign ministry to convey their demands for an apology from the U.S. government, which Crowley eventually made.
The following year, the U.S. embassy in Tripoli was evacuated in February because of the civil war there. The night before the embassy was abandoned, Polaschik went through the complex helping to destroy computers before she left. She was among the first to return when the embassy was to be reopened the following September.
A year later, on September 11, 2012, the U.S. consulate in Benghazi, Libya, was attacked. Four people, including Ambassador Chris Stevens, were killed. Before the attacks, Polaschik had gone to Washington to urge more security for the diplomatic facilities in Libya. Her pleas were ignored, but she drew praise after the attack for having made the effort.
Polaschik came home and in 2013 was made acting director of the Office of Israel and Palestinian Affairs. Later that year, she was made director of the Office of Egypt and Levant (Eastern Mediterranean) Affairs, a job she still holds.
Polaschik speaks Arabic and French.
-Steve Straehley
To Learn More:
Testimony before Senate Foreign Relations Committee (pdf)
State Department Cables (WikiLeaks)