United States Ambassador to Costa Rica: Who Is Sharon Day?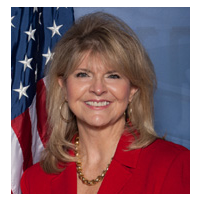 Sharon Day
Sharon Day, who until late 2016 served as the co-chair of the Republican National Committee (RNC), was nominated by President Donald Trump on June 14, 2017, to be the U.S. ambassador to Costa Rica. Day has no diplomatic experience. But, like Trump, she has a history of media bashing.
Day was born in Texas in 1951. Her mother was a Republican and her father was a Democrat. "We were raised in an Ozzie-and-Harriet-type home where every night you talked about what you did that day," she told Beth Reinhard of the Miami Herald in 2003. "So there was a lot of politics around the dinner table." She subsequently lived in Indianapolis, where she was CEO and vice president of Stop Loss International, an underwriting and reinsurance firm founded by her husband, Larry Day.
When the Days sold their business and moved to Fort Lauderdale, Florida, in 1994, Sharon Day immediately became involved in local GOP politics. She became a precinct committeewoman in 1994 and was elected the state committeewoman representing Broward County in September 1996. In 2000, she was a delegate to the Republican National Convention. During the Florida recount in the 2000 George W. Bush-Al Gore presidential race, Day oversaw the Broward County ballot counters. Bush's brother, then-Florida Governor Jeb Bush, then appointed Day to serve on the state's Committee for Election Reform.
Day was a Florida elector for George W. Bush in 2004. She moved up to national committeewoman representing Florida in 2004 and in 2006 was one of nine members of the site selection committee for the 2008 Republican Convention. As the chairwoman of Florida's "Women for McCain" and a delegate to the 2008 convention, she called Todd Palin, the husband of Republican vice-presidential candidate Sarah Palin "the hottie vote."
An enthusiastic true believer, Day created miniature John McCain fliers for Republicans to give out to trick-or-treaters on Halloween four days before the 2008 election.
Day was elected the RNC secretary in January 2009 and then became its co-chair in January 2011. She was re-elected as the party's second in command in 2013 and again in 2015. Day also served on the Broward County Housing Authority board, including a stint as its chairman. She was a member of the Republican Convention Site Selection Committee again, helping to sway the vote for the 2012 meeting in Tampa, Florida.
In 2012, the Republican presidential candidate lost the women's vote for the sixth election in a row. Day then spent the next two years traveling around the United States encouraging women to vote Republican.
Day is such an enthusiastic Republican that she named her dog Reagan. In addition, according to Anthony Man of the South Florida Sun Sentinel, Day refuses to buy tickets to see movies made by directors she considers liberal. Instead, she buys tickets to other movies and sneaks into the show she really wants to see.
During a speech to the 2016 Republican National Convention, Day claimed Hillary Clinton "paid women less than the men" in her office. Politifact rated this assertion as "mostly false." When Trump won the 2016 election, Day was again an elector from Florida.
Day, whose husband died on October 23, 2012, has two sons: Aaron Day and Coby Mansell.
-Steve Straehley, David Wallechinsky
To Learn More:
Trump to Nominate South Florida's Sharon Day as Costa Rica Ambassador (by Alex Daugherty and Franco Ordoñez, Miami Herald)
Sharon Day (Ballotpedia)
South Florida's Sharon Day, Her Party's No. 2, is 'Mrs. Republican' (by Anthony Man, South Florida Sun Sentinel)