United Kingdom's Ambassador to the United States: Who Is Kim Darroch?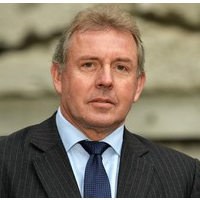 Kim Darroch
Sir Nigel Kim Darroch was appointed to be the United Kingdom's ambassador to the United States in January, 2016. Although Darroch has had several important posts in Britain's Foreign and Commonwealth Office (FCO), it's his first assignment as chief of mission to a nation.
Darroch was born April 30, 1954, in South Stanly, County Durham. He attended secondary school at Abingdon and went on to study zoology at Durham University.
He joined FCO in 1977, first working in the office of protocol, then beginning in 1978 in the news office. Darroch's first overseas posting, in 1980, was as third secretary (subsequently moving up to second and first secretary) in the embassy in Tokyo. He returned to London in 1985 as a desk officer in FCO's maritime, aviation and environment department and two years later was made private secretary to Minister of State dealing with Middle East, arms control and Eastern Europe.
In 1989, Darroch was sent to Rome as first secretary in the embassy there. He returned to Britain in 1993 to be FCO's assistant, then deputy head of the European Union department and would spend much of his subsequent career dealing with EU issues. In 1995, he was named to lead the Adriatic department, but two years later was sent to Brussels as a counselor in the U.K.'s permanent mission to the EU.
Darroch was brought home in 1998 to head FCO's news department, then two years later was made a director of the EU Affairs department. In 2003, he was the department's director general. The following year, he was made EU adviser to Prime Minister Tony Blair and head of the Cabinet Office European Secretariat. He capped his association with EU in 2007, when he was named the U.K.'s permanent representative to that organization. He returned to London in 2012 as National Security Adviser to Prime Minister David Cameron, where he served until 2015.
Darroch's tenure in Washington started inauspiciously. After presenting his credentials to President Obama, Darroch posed with the president for the traditional photo. However, Darroch seemed unnaturally wooden and even robot-like in the image. He later made light of it, tweeting: "Thanks for the feedback everyone! All publicity welcome. And I promise I'm more excited about the new job than I look in that photo."
Darroch's wife, Vanessa, teaches first grade at the British School of Washington. Their son, Simon, is an assistant professor of earth and earth sciences at Vanderbilt University in Nashville, and their daughter, Georgina, works for the Royal Botanic Gardens in London.
-Steve Straehley
To Learn More:
Can This Man Keep the "Special Relationship" Special? (by John Hudson, Foreign Policy)