Turkey's Ambassador to the United States: Who Is Serdar Kılıç?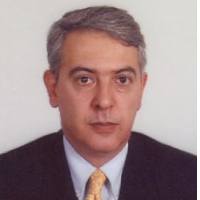 In January 2014, the government of Turkey announced that Serdar Kılıç, a longtime member of the country's foreign ministry, was to be the next ambassador to the United States, although he did not arrive in Washington until April.
Kılıç was born March 28, 1958, in Samsun, a city in north-central Turkey on the Black Sea. He graduated from Ankara University's political sciences department in 1980.
Kılıç didn't join the Foreign Ministry right away. His first professional job was in 1977 with Turkey's Ministry of Tourism and Culture. In 1982, he took a position in the private sector as a director for Ekşioğlu Holding, a construction company.
Kılıç joined the Foreign Ministry in 1984 and was assigned to the Eastern Europe and Asia Department. His first overseas posting came in 1987 when he was named third secretary in Turkey's embassy in Kuwait. Kılıç landed his first U.S. assignment in 1989 as assistant consul general in Los Angeles. He returned home in 1992 as second secretary and later first secretary in the ministry's Gulf and Muslim Countries Department.
In 1993, Kılıç began a fairly long period dealing with the North Atlantic Treaty Organization (NATO), initially as first secretary in Turkey's delegation to NATO. He returned to Ankara in 1997 as chief of section in the ministry's Deputy General Directorate of NATO and Euro-Atlantic Security and Defense Affairs. In 1999, Kılıç was back in Turkey's NATO delegation as a counselor.
Kılıç returned to Turkey in 2003 as head of department for the Balkans and Central Europe desk. He was named deputy director general of NATO and Euro-Atlantic Security and Defense Affairs in 2006.
Kılıç's first ambassadorial post came in 2008 when he was named envoy to Lebanon. While there, he worked to increase awareness of Lebanon's ethnic Turkish population. He was brought home in 2010 to be secretary general of MGK, Turkey's National Security Council. He was sent to Tokyo as ambassador in 2012, a post he held until being named to Washington.
Since coming to the United States, Kılıç has had to deal with various groups' recognition of the Armenian Genocide of 100 years ago, in which the Ottoman government killed about 1.5 million ethnic Armenians. Turkey has long fought the use of the word "genocide" for the deaths.
Another confrontation came when Turkish Prime Minister Recep Tayyip Erdoğan was asked to return a peace award given him in 2004 by the American Jewish Congress. The request came after Erdoğan referred to Israel's attacks on Gaza in the summer of 2014 as genocide. He told supporters "They kill women so that they will not give birth to Palestinians; they kill babies so that they won't grow up; they kill men so they can't defend their country." Kılıç acted as an intermediary in the dispute, telling the organization that Erdoğan would return the award.
Kılıç is married and has one son. He is the uncle of Çağatay Kılıç, Turkey's Sports and Youth Minister.
-Steve Straehley
To Learn More:
Turkey Reshuffles Envoys in Washington, London and Paris (Hurriyet Daily News)