Trump Lists Qualities for Supreme Court Nominee
Monday, September 21, 2020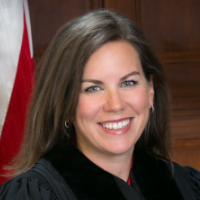 Judge Britt Grant of Georgia
President Donald Trump has signaled that he will nominate a woman to replace Ruth Bader Ginsburg. While Trump was leaving to play golf, AllGov correspondent Sidney Finster asked him what qualities he was looking for in the nominee.
"Well," replied Trump, "she has to be a woman, the younger the better. She has to be nice to look at, and she needs to be good on television, particularly on Fox News."
"What about her positions on issues?" Finster persisted.
"That's important too," Trump assured Finster. "If she can help me win Florida or Pennsylvania or Georgia, that would help."
Amy Coney Barrett, Britt Grant, Barbara Lagoa, and Allison Jones Rushing are all rumored to be fixing up Photoshopped versions of their official portraits.
David Wallechinsky
(satire)