The Long Wait: Who is Obama GSA Nominee Martha Johnson?
Saturday, January 09, 2010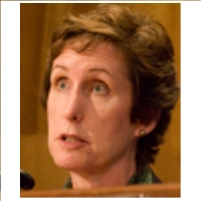 On April 3, 2009, President Obama announced his intention to nominate Martha Johnson to be the next Administrator of the General Services Administration (GSA), an independent agency that provides procurement services to federal agencies, manages contracts, and maintains federal buildings through its Public Buildings Service. The appointment of GSA insider Johnson was expected to raise morale at the GSA, which was rocked by the scandal-plagued tenure of Lurita Doan, who was asked by the Bush White House to resign in April 2008 because of serious allegations of conflicts of interest and use of federal properties for partisan purposes, which is prohibited by the Hatch Act. However, the position of administrator has remained unfilled ever since.
- Matt Bewig