The Democratic Republic of the Congo's Ambassador to the United States: Who Is François Balumuene?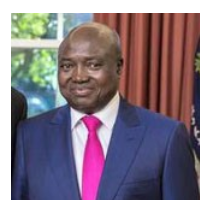 François Balumuene
François Nkuna Balumuene took over as the Democratic Republic of the Congo's ambassador to the United States on September 17, 2015. It's the second such post for the career member of his country's foreign service.
Balumuene was born September 9, 1952. He attended secondary school at Petit Seminaire de Kabwe in Kasai-Occidental and went on attend college at the Kinshasa campus of the National University of Zaire (Zaire is now known as the Democratic Republic of the Congo). He earned a master's in economics in 1979 and joined his country's Ministry of Foreign Affairs the following year.
Beginning in 1984, Balumuene served as first counselor in the embassy in Madrid, Spain. He returned home in 1988 as head of the Latin America division in the America, Asia and Oceana department of the ministry. The following year, he was an advisor to the Foreign Minister on multilateral affairs and in 1991 moved to the staff of the Administrative and Financial Affairs Directorate. In 1993, Balumuene was moved to the ordinary passports division and three years later became assistant to the secretary-general for foreign affairs in charge of financial and banking issues. In 1997, he headed up the Europe division and beginning in 1999 was advisor to the minister of foreign affairs, in charge of international cooperation.
Balumuene served for a short time in 2000 as diplomatic and administrative assistant to the deputy commissioner general of the Government for MONUC Affairs, in charge of finance, logistics and foreign policy for the UN peacekeeping effort in the Democratic Republic of the Congo. Later that year, he was made chargé d'affaires at the embassy to South Africa in Pretoria, where he served three years.
In 2003, Balumuene was sent to India as his country's ambassador. He remained there long enough to become the dean of New Delhi's diplomatic corps, leaving only to take over the embassy in Washington.
Balumuene is married and has five children.
-Steve Straehley
To Learn More:
Official Biography (Democratic Republic of the Congo)