Thailand's Ambassador to the United States: Who Is Pisan Manawapat?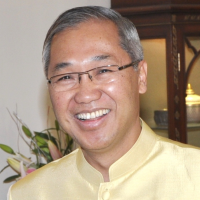 Pisan Manawapat presented his credentials as Thailand's ambassador to the United States on February 23, 2015. It's the fourth ambassadorial posting for the long-time member of his country's foreign service.
Pisan was born in 1956. He attended school at Bangkok Christian College and went on to secondary school at Triam U-dom Suksa School, also in Bangkok. Pisan was given a foreign ministry scholarship to study at the London School of Economics. He graduated with a B.Sc. in economics in 1980 and the following year received his M.Sc. with a focus on international trade.
He was first posted to the United States in 1986, starting out as an American Political Science Association congressional fellow, working for Congressman Don Peck (D-Ohio) and Senator Daniel Inouye (D-Hawaii). He remained in Washington after his fellowship year, working as a first secretary for political affairs in the Thai embassy until 1990.
Psan's next overseas assignment came in 1993 at the embassy in Kuala Lumpur, Malaysia, staying there until 1995. Upon returning to Bangkok, Pisan was named deputy director general for the East Asia department in the foreign ministry.
He got more responsibility in his next overseas posting, serving as deputy chief of mission in Tokyo beginning in 1999. He returned home in 2002, first working to help reform Thailand's overseas missions, then as director general of the Department of International Economic Affairs. Pisan was made deputy permanent secretary for bilateral relations in 2004. Beginning in 2002, he also was chief negotiator of a trade agreement with Japan that culminated in the 2007 signing of the Japan-Thai Economic Partnership Agreement.
Pisan's first job as ambassador came in 2007, when he was named envoy to Belgium and Luxembourg, as well as the head of Thailand's mission to the European Union. In 2011 he was named ambassador to India, serving there for two years. He then took over the Thai embassy in Canada, focusing on funding for the health and biotech industries.
Since taking over in Washington, Pisan has spent much of his time attempting to improve relations between his country and the United States in the wake of a May 2014 coup, after which the Thai government tightened restrictions of freedom of expression in their country.
In fact, Pisan has a long history of defending the Thai government's human rights record. Back in 1989, during his first stint at the embassy in Washington, it fell to him, as first secretary for political affairs, to respond to a report by the New-York-based Lawyers Committee for Human Rights that criticized the Thai government's failure to protect refugees from Vietnam and Cambodia.
In 2005, it was Pisan who briefed the diplomatic corps in Bangkok about the Thai government response to the October 25, 2004, Tak Bai Incident in which Thai security forces killed more than 80 Muslim protesters.
Pisan and his wife, Wanchana, have one daughter.
-Steve Straehley
To Learn More: