Switzerland's Ambassador to the United States: Who Is Martin Dahinden?
Saturday, January 03, 2015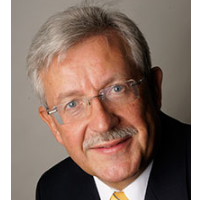 Martin Dahinden was appointed as the Swiss ambassador to the United States in 2014, presenting his credentials to President Barack Obama on November 18.
Dahinden was born in 1955 in Zurich, Switzerland. He attended the University of Zurich, earning a Ph.D. in business administration. His thesis was "Das Schweizerbuch im Zeitalter von Nationalsozialismus und geistiger Landesverteidigung" (The Swiss Book in the Era of National Socialism and Spiritual National Defense). Dahinden did work postgraduate work at the university and worked in the publishing industry and in banking before he joined his country's foreign service in 1987.
His early postings included a stop at the Swiss embassy in Paris, working as deputy to the Swiss ambassador in Nigeria, and a temporary posting at the Swiss mission to the United Nations in New York.
When Switzerland chaired the Organization for Security and Cooperation in Europe (OSCE) in 1996, Dahinden was head of his country's OSCE coordination unit. The following year he was sent to Brussels to lead the Swiss mission to the North Atlantic Treaty Organization.
In 2000, Dahinden was named to lead the Geneva International Center for Humanitarian Demining, which works to rid the world of land mines and other leftovers from armed conflicts. He was appointed to lead the Directorate of Corporate Management of the Swiss Department of Foreign Affairs in 2004.
Dahinden was made director of the Swiss Agency for Development and Cooperation in 2008. There he managed his country's humanitarian aid contributions around the world. He held this position until being posted to Washington.
Dahinden's appointment as ambassador to the United States came after his predecessor, Manuel Sager, was appointed head of the Eastern Europe division of the Swiss Agency for Development and Cooperation.
Dahinden and his wife, Anita, have two children, Robert and Andrea.
-Steve Straehley
To Learn More:
Official Biography (pdf)
Where There Are Conflicts, We Have a Very Important Role (Current Concerns) (pdf)