South Sudan's Ambassador to the United States: Who Is Garang Diing Akuong?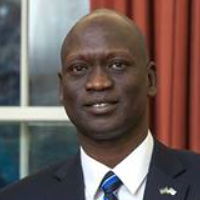 Garang Diing Akuong presented his credentials as South Sudan's ambassador to the United States on February 23, 2015. Akuong is the second ambassador to the United States from the newly independent country.
Akuong is from Aweil, close to the present-day border with Sudan, from which South Sudan seceded in 2011. He attended primary and middle school there, and then high school in Wau, farther south. He attended college at Alexandria University in Egypt, earning a B.A. there in 1987. He returned to Sudan to teach secondary school in Khartoum, Sudan, until 1993.
Akuong then went to work for the United Nations as a volunteer specialist in the World Food Program in Somalia. In 1997 he was made a relief coordinator for Catholic Relief Services in Nimule, Sudan. He returned to the UN World Food Program in 1996 as a volunteer specialist, this time in Ghana.
In 2003, he returned to school, earning a B.A. in international studies and diplomacy from the University of London in 2004.
When he returned home, Akuong was elected to the South Sudan assembly. He was also general secretary in the Ministry of Foreign Affairs from 2006 to 2007.
He then took up government posts in Northern Bahr el Ghazal state, which includes Aweil. He was state minister of health until 2008, minister of parliamentary affairs for a time that year, state minister of agriculture from 2008 to 2009 and minister of finance until 2010, when he joined the national government.
As a member of the national legislature beginning in 2010, Akuong was first minister of energy and mining, and then, beginning in 2011, minister of commerce, industry and investment until 2013. Much of his time was spent trying to move South Sudan's oil resources to market through a region with little infrastructure while dealing with the fact that South Sudan's food supply was dependent on Sudan. Akuong's home area of Bahr el Ghazal was devastated by famine in 1998.
In early 2012, Akuong was appointed to a presidential austerity committee. When President Salva Kiir later dismissed Vice President Riek Machar, as well as his cabinet, Akuong defended the move, saying a leaner government would better serve the people. Press reports in 2013 accused Akuong of profiting from currency transactions.
Since taking over as ambassador, Akuong has had to contend with the U.S.-initiated threat to impose sanctions, through the United Nations Security Council, against South Sudan unless President Kiir and Machar can come to terms to end a civil war which began in December 2013 and has killed ten thousand and displaced an estimated 1.5 million citizens.
Akuong is married to Josephine Nyimeda Baak.
-Steve Straehley
To Learn More:
Interview with Garang Diing Akuong (Voice of America) (video)
The Most Corrupt Government Institution in South Sudan (National Advocacy Group, SouthSudanNation.com)