Serbia's Ambassador to the United States: Who Is Djerdj Matković?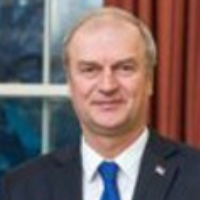 Djerdj Matković assumed the position of Serbia's ambassador to the United States on February 21, 2015, after the post had been vacant for 18 months. The Washington post is Matković's first as an ambassador, but it's not his first stint in the United States.
Matković was born May 28, 1955, in Subotica, Yugoslavia. In 1971, he moved to the capital, Belgrade, where he completed high school. Matković went on to study at the University of Belgrade, earning a degree in international law and international organizations.
He joined Yugoslavia's foreign ministry in 1981 as a trainee. In 1982, Matković was made an attaché, then third secretary, in the Ministry of Foreign Affairs' department for neighboring countries. His first overseas assignment came in 1986, when he was named a third secretary in his country's embassy in Ottawa, Canada.
Matković returned to Yugoslavia in 1990 as a first secretary and chief of cabinet for the under secretary at the Ministry of Foreign Relations. In 1993 Matković was again sent overseas, this time to Zimbabwe as first secretary in Yugoslavia's embassy in Harare. He was brought home in 1998 as a counselor and chief of cabinet for the assistant secretary for bilateral relations.
In 2001, Matković was made minister counselor and deputy chief of mission in the embassy in Budapest, Hungary. It was during his time there that the Federal Republic of Yugoslavia, which had comprised only Serbia and Montenegro since 1992, morphed into a union of those two republics, which was dissolved in 2006.
Matković was brought home as the deputy chief of cabinet for the Ministry of Foreign Affairs in 2005 and the following year was named the ministry's deputy secretary general. Matković's first stint in Washington came in 2007, when he was assigned to the embassy there as first counselor.
He returned to Serbia in 2011 as the ministry's director of its department for North and South America. The following year, Matković was made chief of protocol, serving in that role for just a few months.
In August 2012, Matković began advising Deputy Prime Minister Aleksandar Vučić on foreign policy issues and continued to do so when Vucic was elevated to prime minister in 2014. Matković was Vučić's main advisor during the beginning of the crisis in Ukraine, keeping Serbia on a narrow path between Russia and the United States.
Matković and his wife, Vera, have a son, Djerdj Jr., who earned a B.A. from McDonald College in Maryland and an M.A. from Hood College, also in Maryland.
Matković speaks Hungarian and English.
-Steve Straehley
To Learn More: