Senegal's Ambassador to the United States: Who Is Babacar Diagne?
Saturday, January 24, 2015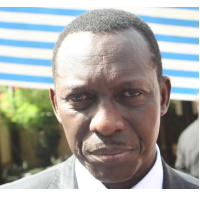 Babacar Diagne presented his credentials as Senegal's ambassador to the United States to President Barack Obama on November 18, 2014. It's the second ambassadorial posting for Diagne.
Diagne was born April 16, 1951. In 1976, he received an arts degree from the University of Dakar. He then went to France, Senegal's colonial power, where in 1978 he received an education degree from Paris' École Normale Supérieure. Diagne then went to school in Lille, where he earned a journalism degree in 1981.
He returned to Africa and worked as a reporter and editor. In 2000, Diagne was named director of Le label de L'Ogooué communication company in Libreville, Gabon. He returned to Senegal in 2002 as communications advisor to then-President Abdoulaye Wade.
In 2006, Diagne was appointed director general of Senegal's state radio and TV service, RTS. He encountered some opposition from journalists who said he was "too dedicated to the electioneering propaganda of PDS," the ruling party of Wade. Diagne kept his post and in 2011 was even given an extension from mandatory retirement. Diagne's legacy at RTS includes putting on popular shows such as a Senegalese show similar to "Good Morning America." He also worked to ensure that the 2010 World Cup would be broadcast in his country.
In November 2012, Diagne left his position at RTS and was appointed ambassador to the Gambia, a nation almost entirely surrounded by Senegal. Much of his work involved advocating for Senegalese held in prison in that country, many of them facing death sentences. He also obtained a grant from Senegal's government to support women's projects in the Senegalese women's community in the Gambia. He served there until being sent to Washington in 2014.
Diagne is married and has three children. He speaks French and English.
-Steve Straehley
To Learn More:
Gambia: Embassy of Senegal - Babacar Diagne Leaves, PR Saliou Ndiaye Arrives (AllAfrica)