Saudi Arabia's Ambassador to the United States: Who Is Abdullah bin Faisal bin Turki Al Saud?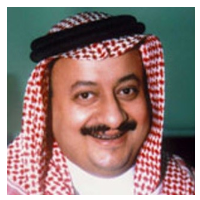 Abdullah bin Faisal bin Turki Al Saud
Prince Abdullah bin Faisal bin Turki bin Abdullah Al Saud was named as Saudi Arabia's ambassador to the United States in October, 2015. It's the first such assignment for Abdullah, whose background is more business oriented.
Abdullah was born in 1951 in Taif, which is not far from Mecca. His family is not directly descended from the founding Sauds, but he is a nephew, on his mother's side, of King Salman, the current ruler. Abdullah, the oldest of seven children, was educated first in Saudi Arabia, then went to college in Britain and studied engineering. Although Abdullah is a prince, he's not considered part of the Saudi ruling inner circle.
In 1975, Abdullah, known to associates as "AFT," joined the Royal Commission for Jubail and Yanbu, two "showcase" industrial cities being developed by the government. The cities are home to industries producing things such as fertilizer and plastics made from the byproducts of the giant Saudi petroleum business. He was made acting secretary general of the commission in 1985, secretary general in 1987 and was chairman in 1991. He also served as CEO of the commission and chairman of its board of directors.
Abdullah, who is seen as a somewhat progressive free-market advocate, was named governor of the Saudi Arabian General Investment Authority (SAGIA) in 2000. The authority was created to promote foreign investment in the country. While leading the agency, Abdullah also worked to get more Saudis in the workforce. Many jobs, particularly lower-end positions, in the country are filled by foreigners. However, when Abdullah resigned from the authority in 2004, it was said to be due to his frustration with government bureaucracy, the slow pace of reforms and privatization in the country, and his inability to bring in enough foreign investment. However, under Abdullah's governorship at SAGIA, close to 2,000 foreign business licenses were issued, holding a total value of about $15 billion.
More recently, Abdullah was chairman of the Saudi Italian Development Company.
Abdullah is married and has four children: Turki, Salman, Elanoude and Sarah.
-Steve Straehley
To Learn More:
Abdullah bin Faisal bin Turki bin Abdullah Al Saud (Wikipedia)