Romania's Ambassador to the United States: Who Is George Cristian Maior?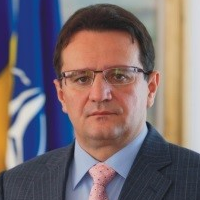 George Cristian Maior
George Cristian Maior, who until 2015 was the head of his country's intelligence service, presented his credentials as Romania's ambassador to the United States on Sept. 17, 2015.
Maior was born Nov. 16, 1967, in Cluj-Napoca, Romania. His father Liviv later served as minister of education from 1992 to 1996 and subsequently as ambassador to Canada. Maior attended Babeş Bolyai University, earning a degree in laws in 1991. He then went to George Washington University in Washington, D.C., to earn an LL.M. in international and comparative law in 1992.
That year, Maior returned to Romania to work for five years in the Ministry of Foreign Affairs, in the department of treaties and strategic affairs. While there, he also worked on a Ph.D in international law at Babeş Bolyai, which he completed in 1997. He wrote his dissertation on "National and European Features in Strasbourg European Court Jurisprudence." Later that year, he was sent to Dublin, Ireland, as chargé d'affaires at the embassy there.
In 2000, Maior was named state secretary in the Ministry of National Defense, heading up the Department of Euro-Atlantic Integration, helping Romania assume membership in NATO. Maior ran for office in 2004, winning a seat in the Romanian Senate as a member of the Social Democratic Party. He gave up his seat in 2006 to head the Romanian Intelligence Service.
In 2015, Maior, in his capacity as intelligence chief, supported proposals to retain data and personal information on Romanian citizens. He resigned after the country's high court rejected those proposals. Shortly thereafter, Maior was given the job in Washington.
One of the goals Maior is pursuing is to have Romania accepted as a participant in the U.S. visa waiver program, which would make it easier for Romanians to come to the United States.
Maior is the author of many books and articles on human rights, international law, and intelligence and national security issues. His wife, Anamaria, is the daughter of Romanian novelist and journalist Augustin Buzura. Maior and his wife have two children.
-Steve Straehley
To Learn More: