President and CEO, National Railroad Passenger Corporation: Who Is Charles W. Moorman IV?
Wednesday, January 04, 2017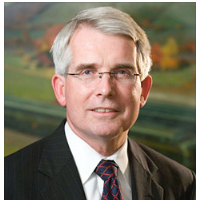 Charles W. Moorman IV (photo: Norfolk Southern)
Charles W. "Wick" Moorman IV, who has spent his entire career working in the railroad industry, took over the National Railroad Passenger Corporation, or Amtrak, on September 1, 2016, when he was appointed as its president and CEO.
Moorman was born in 1953 in New Orleans, where his father was attending Tulane University. His family moved to Hattiesburg, Mississippi, shortly thereafter, where the elder Moorman taught English at the University of Southern Mississippi. Moorman grew up there, except for a period during which his father taught in London.
Moorman attended Georgia Tech, earning a B.S. in civil engineering in 1975. But even before then, he was working for the railroad. He began with the Southern Railway in 1970 in a co-operative education program. When he graduated from Georgia Tech, he became a management trainee for Southern, moving up through the ranks to become a track supervisor and division engineer.
In 1987, Southern offered buyouts to some of its engineering personnel. Moorman, who had wanted to return to school to earn an MBA, took one and went to Harvard. He graduated in 1989 and applied to return to Southern. The railroad took him back as its director of transportation planning.
In 1991, after Southern merged with Norfolk and Western to become Norfolk Southern, Moorman was named assistant vice president of stations, terminals and transportation planning. He continued to climb the corporate ladder and in 2003 was named senior vice president of corporate services and later that year was made senior vice president for corporate planning and services. In 2004, he was named Norfolk Southern's president, the following year its CEO and in 2006, Moorman added chairman to his title.
He retired from Norfolk Southern in 2015, after which the railroad named its largest train classification yard, in Bellevue, Ohio, after him.
Moorman took the Amtrak job for $1 a year, plus incentives that could reach $500,000. He also serves on the boards of oil giant Chevron and Duke Energy. He has said he doesn't expect to lead Amtrak for long.
As one might expect of a train enthusiast, Moorman has his own train, or at least a train car. He owns "Sandy Creek," an office car that can be attached to regular trains. He also enjoys golf—he's a member of Augusta National as well as other clubs—and has played in the Pebble Beach Pro-Am.
Moorman and his wife, Bonnie, have two grown children, a son and a daughter. Moorman was a donor to Barack Obama in the 2008 election, but in 2012 threw his support to Mitt Romney.
-Steve Straehley
To Learn More: