Peru's Ambassador to the United States: Who Is Luis Miguel Castilla?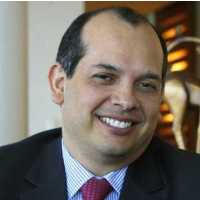 Luis Miguel Castilla Rubio, an economist who had been his country's finance minister, was named in January 2015 to be Peru's ambassador to the United States.
Castilla was born October 31, 1968, in Lima, Peru. His father, Vice Admiral Juan Castilla, was at one time Peru's minister of transport and communications. Castilla attended college in North America, earning his B.A. in economics at Montreal's McGill University in 1991 and following that with an M.A. in economics from Johns Hopkins University in Baltimore in 1993. He was araded a PhD in economics from Johns Hopkins in 2001.
He began work in 1994 at the World Bank, where he had interned as a college student. He worked as a country analyst for Honduras and in 1996 was moved to the office of the chief economist as a consultant for the Middle East and North Africa region.
In 1996, Castilla moved to the Development Bank of Latin America, or CAF for its Spanish name. He began as a country economist for Bolivia, Peru and Argentina. Castilla was made director of economic research in 2003 and in 2005 was named acting vice president of development strategies. The following year he was made chief economist and vice president of public policies and competitiveness, a post he held until 2009.
Castilla joined Peru's government as assistant finance minister under centrist President Alan Garcia in January 2010. When Ollanta Humala, a president with leftist leanings assumed office in July 2011, he surprised many by adding Castilla to his cabinet as minister of rconomics and finance. Humala thought that the presence of Castilla, an economic moderate, would calm the fears of Peru's business community about the ascension of a leftist to the presidency.
Castilla stepped down in September 2014, ostensibly for family reasons (his wife died in 2011 and he has two children), but probably also because his previously enacted policy of having workers pay some money into their pension plans was about to be undone by Humala's government. Castilla remained on good terms with the administration, nonetheless, and was rewarded with the Washington post.
Castilla speaks Spanish, English and some French.
-Steve Straehley
To Learn More:
Peru Leader Taps Moderate Cabinet (by Matt Moffett and Robert Kozak, Wall Street Journal)
Official Biography