Niger's Ambassador to the United States: Who Is Hassana Alidou?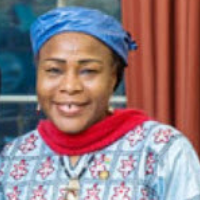 Hassana Alidou presented her credentials as Niger's ambassador to the United States to President Barack Obama on February 23, 2015. It's the first diplomatic post of any kind for Alidou, whose background is in education.
Alidou was born in 1963 and has a twin sister named Ousseina. Her parents were community leaders and instilled a sense in her that she should serve her community as well. Alidou graduated in 1987 from Université de Niamey in Niger's capital with a B.S. in linguistics. After being denied acceptance in graduate school in Niger, she went to the United States to pursue graduate studies with the help of a U.S. government-funded Thomas Jefferson Fellowship. Alidou attended the University of Illinois, earning a master's degree in linguistics in 1991. She taught for a time at Illinois, and then in 1993 returned to Niger and was a lecturer at her alma mater.
The following year, she went to work as a consultant for the German Foundation for International Development Basic Education Project in Niger, Mali and Burkina Faso and in 1996 added work as senior education and literacy consultant for the Dutch Development Agency in Niger. In 1997, she received her Ph.D. in linguistics from Illinois.
She worked for a time as an assistant professor of English as a second language and multicultural education coordinator at Texas A&M University from 1998 to 2002. While there, she continued to pursue education issues abroad; in 1999-2000 she was a lecturer for The World Bank Education Specialists Institute of Development Studies at Britain's Sussex University and from 2000 to 2003, Alidou was senior consultant and academic director of the German Foundation for International Development, UNICEF and the Burkina Faso Ministry of Education bilingual education and literacy and reading project.
In 2002, Alidou became a professor at Alliant International University in San Diego. She continued to work on education projects in Africa, however. Her focus is on promoting the early education of African students in their indigenous language, rather than the colonial language such as French or English as is the case now. As part of that work, Alidou consults on bi/multilingual and mother tongue education in Africa for the UNESCO Institute for Education. She was the regional director of UNESCO in Abuja, Nigeria.
Alidou's twin, Ousseina, is a professor at Rutgers.
-Steve Straehley
To Learn More:
Hassana Alidou (National Institute of Education, Singapore)
Q&A with Hassana Alidou (Alliant) (pdf)