New Zealand's Ambassador to the United States: Who Is Tim Groser?
Saturday, August 06, 2016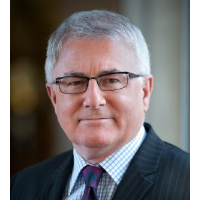 Tim Groser (photo: National Party)
Tim Groser, a member of New Zealand's parliament, was appointed to be his country's ambassador to the United States in December 2015. It's a return to diplomacy for Groser, who served his country for decades as a trade negotiator.
Timothy John Groser was born March 6, 1950, in Perth, Scotland, and moved to New Zealand with his parents when he was 8. Groser's parents were actors and Groser himself did quite a bit of acting as a child. His jobs were primarily in radio but he also had a part on New Zealand's long-running television soap opera, "Close to Home." As a young adult, Groser continued performing, playing bass guitar for a rock band.
He graduated from Victoria University in 1973 with a degree in economic history and went to work for the government. His first post was as a junior investigations officer for the Treasury, but in 1976 became a first secretary at the High Commission in Canberra, Australia. Three years later, he was a negotiator for a New Zealand-Australia trade agreement.
In 1982, Groser was named a foreign affairs adviser for the Department of the Prime Minister and Cabinet. He served in 1985 as division director of multilateral trade for the Department of Trade and Industry. The following year, he was appointed Minster to New Zealand's mission to the General Agreement on Tariffs and Trade (GATT). Beginning in 1990, he was New Zealand's chief negotiator for the Uruguay Round of GATT talks, which culminated in agreements being signed in 1994.
Groser was named Ambassador to Indonesia in 1994. During his time there he was married, embracing Islam in the process, and had a daughter. He returned home in 1997 as the principal economic adviser to the Ministry of Foreign Affairs. In 1999, he was named chief executive of the Asia-New Zealand Foundation.
In 2002, Groser, known as his country's "Billion-Dollar Man" for his trade negotiating, was named his country's ambassador to the World Trade Organization (WTO) in Geneva. Three years later, in the midst of agricultural negotiations, Groser resigned from the civil service to stand as a National Party candidate for a Parliamentary "list-only" seat—meaning that it doesn't represent a specific district. The party did well enough that Groser won a seat.
In 2007, Groser was accused by his by-now ex-wife of smoking marijuana while on the job as Ambassador in Jakarta. Groser denied the accusation and the controversy died down, paving the way, the following year, for him to be named to the cabinet as Minister of Trade and Minister of Conservation.
Groser was being touted in 2013 to be the next Director General of the WTO. He was not given the post, but it was later found in documents leaked by Edward Snowden that New Zealand's intelligence service had used U.S. National Security Agency facilities to spy on the other candidates for the position on behalf of Groser.
As Trade Minister, Groser has been strongly advocating for the Trans-Pacific Partnership trade deal and the Paris Agreement on climate change.
Groser has two children and his musical interests have switched to acoustic and jazz guitar and jazz piano. He speaks French and Bahasa Indonesia.
-Steve Straehley
To Learn More:
Meet the Newsmaker: Tim Groser (by Amelia Langford, Radio New Zealand)
Tim Groser (Wikipedia)