Nepal's Ambassador to the United States: Who Is Arjun Karki?
Saturday, September 05, 2015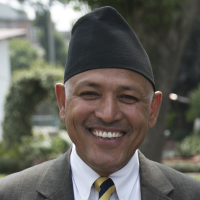 On January 16, 2015, Arjun Kumar Karki, a longtime activist in his country, was appointed to be Nepal's ambassador to the United States. It's the first such post for Karki. He also serves as his nation's ambassador to Columbia, Costa Rica, Guatemala, Guyana, Honduras, Mexico and Nicaragua.
Karki was born July 22, 1963. His undergraduate education came in Nepal, where he earned an I.Sc. degree in agriculture in 1985 and a bachelor's degree in agricultural economics in 1990, both at Tribhuvan University in Rampur, Chitwan, Nepal. He then went to Great Britain, earning a M.Sc. in Management and Implementation of Development Projects at University of Manchester Institute of Science and Technology and Victoria University of Manchester in 1995. His Ph.D. in Development Studies came from the University of East Anglia in 2001. His thesis was "The Politics of Poverty and Movements from Below" which analyzed bonded laborers, Nepal's land rights movement and the Maoist insurgency.
As a student in Nepal, Karki was arrested and tortured for his activism, according to a biography on his Facebook page. In his professional career, Karki has been involved with many non-governmental organizations in Nepal, often several at the same time. Beginning in 1990, he was an organizer for Grassroots Institute for Training and Services. One of his earliest protests was of a dam to be financed by the World Bank. Activists were concerned that a road needed to facilitate construction of the dam would hurt the environment.
From 1996 to 1998, Karki was secretary general of the NGO Federation of Nepal, a group representing a few thousand of the more than 30,000 such organizations in that country, and was its president from 2003 to 2008. In November 2005 this put him in conflict with the government of Nepal, which tried to impose a Code of Conduct for Social Organizations that limited their political expression.
From January 2005 until April 2015 he was president of Rural Reconstruction Nepal. From 2005 to 2007, Karki led LDC Watch, an alliance of national, regional and international civil society organizations, networks and movements based in the least developed countries. In 2007, Karki became the group's international coordinator. Over the years, Karki has written extensively on Nepal's political and economic situation.
More recently, Karki has been an adjunct professor at the Agriculture and Forestry University of Nepal. He is married and is the father of a daughter and a son.
-Steve Straehley
To Learn More:
Curriculum Vitae (pdf)