National Indian Gaming Commission: Who is Tracie Stevens?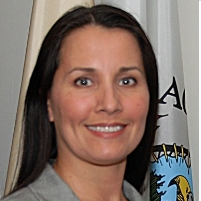 If confirmed as chair of the National Indian Gaming Commission, Tracie Stevens would become the first woman to lead the oversight body for the $27 billion Indian gaming industry.
In 2003, she became a legislative policy analyst in the tribe's government affairs office. She represented the Tulalips in negotiations to update gambling compacts between the state of Washington and all federally-recognized tribes in the state. She also lobbied state lawmakers on tribe-related bills, including a controversial measure in 2005 to allow the Tulalips to retain millions in sales tax revenue collected at Quil Ceda Village. The bill did not pass.
In 2006, Stevens was elevated to senior policy analyst, a position she held until 2009. Also in 2006, Stevens received a Bachelor of Arts degree in social sciences from the University of Washington-Seattle, an accomplishment that took many years, as she had to attend night school while working.
Stevens and her husband, Kyle, have one daughter, Cierra.
-Noel Brinkerhoff