Mexico's Ambassador to the United States: Who Is Carlos Sada?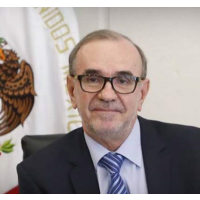 Carlos Sada
The government of Mexico, in an effort to respond to the charges made about the country and its people by Republican presidential candidate Donald Trump, on April 5, 2016 confirmed Carlos Sada Solana as its ambassador to the United States. It's the first such appointment for Sada, a longtime diplomat but not a member of his country's foreign service.
Sada was born August 15, 1952 in Oaxaca state, one of seven boys. He comes from a family of entrepreneurs; his grandparents founded companies making beer, soft drinks and soap, and processing sugar and wheat.
Sada has a degree in industrial engineering from Ibero-American University in Mexico City. He performed postgraduate studies in economic development at the University of Delft in the Netherlands, in industrial development at the Institute of Public Administration in The Hague, and in production systems development from the University of Newcastle in England.
Sada began working for the Mexican government in 1980 as adviser to the undersecretary of education and technological research at the Secretariat of Public Education, where he was in charge of master's degree programs and providing equipment to technology institutes. He then returned in 1982 to his native Oaxaca, where he coordinated federal and state budgets, as well as the planning, assignment and monitoring of resources as executive member-at-large of the public investment planning and control commission of that state. The following year Sada began overseeing industrial, trade, tourism, agriculture, urban development, fisheries, education and culture programs as a secretary of state in Oaxaca. In 1986, he was moved up to Secretary of Economic and Social Development, taking charge of industrial, trade, mining, tourism, fisheries, culture, and education programs.
Sada's first diplomatic assignment came in 1989, when he was sent to Toronto as Mexico's consul general in that city. He returned to Mexico in 1993 as municipal president of Oaxaca de Juarez, the largest city in Oaxaca state.
Sada returned to diplomacy in 1995, when he was made consul general of San Antonio, Texas. After five years there, he was moved on to Chicago, serving there until 2007. At that point, he got his first assignment in an embassy, serving as a minister in Mexico's mission to Washington. In 2011, he was made consul general in New York and two years later took a similar role in Los Angeles.
Sada is certainly aware of his charge to counter the negative statements Trump has made about Mexico. Sada's predecessor, Miguel Basañez Ebergenyi, had been criticized for his lackluster response to Trump's disparaging remarks about Mexican undocumented immigrants. Consequently, President Enrique Peña Nieto nominated Sada to replace Basañez, who had been on the job only seven months. "We need to do a more thorough job so that people understand what (Mexico) contributes," Sada said after being sworn in, according to Reuters.
A statement released by the Mexican government when Sada presented his credentials to President Obama on June 27, 2016, read in part: "Ambassador Sada has led several major Mexican consulates in this country: San Antonio, Chicago, New York and Los Angeles, and each parcel has devoted much of its effort to empower Mexican communities and promote and strengthen the image of our country."
Sada is fluent in English and speaks some French. He and his wife Maria Elena Vazquez have two sons, Andres and Manuel.
-Steve Straehley
To Learn More:
Retrato Hablado: Carlos Manuel Sada Solana, la Apuesta por la Diplomacia (by Ivan Saldaña, Excelsior)