Mauritania's Ambassador to the United States: Who Is Mohamedoun Daddah?
Saturday, November 19, 2016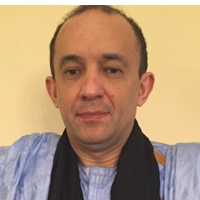 Mohamedoun Daddah
Mohamedoun Daddah, son of the one-time president of Mauritania, took over as his country's ambassador to the United States on June 27, 2016.
Trained in public international law, Daddah served as head of documentation and the research center of the Moktar Ould Daddah Foundation, the organization founded in honor of Daddah's father, who served as Mauritania's president from 1959 until he was ousted in a 1978 coup. The younger Daddah also worked as administrative and finance director of Invest Consulting, which promoted foreign investment in Mauritania.
In 2008, Daddah became his country's ambassador and director of international cooperation at the Ministry of Foreign Affairs and Cooperation. He also served as a delegation member at United Nations General Assembly sessions.
In 2014, Daddah was named ambassador to Belgium and the Netherlands and the following year he was made ambassador to the European Council.
Daddah is married to Zeinebou Chiekh.
-Steve Straehley
To Learn More: