Mali's Ambassador to the United States: Who Is Tiéna Coulibaly?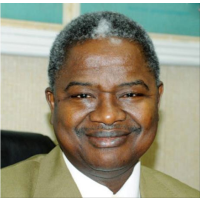 Tiéna Coulibaly presented his credentials as Mali's ambassador to the United States to President Barack Obama on November 18, 2014. It's the first ambassadorial posting for Coulibaly, who was previously his country's finance minister.
Coulibaly was born in Boré, Mali, in 1952. He remained in his native town for early schooling, and then went to the capital of Bamako, where he attended Prosper Kamara High School, graduating in 1971. For college, Coulibaly went first to Laval University in Montréal, where he earned a bachelor's degree in agricultural economics in 1977. He then went to graduate school at Purdue, receiving an M.S. in agricultural economics in 1978.
In 1981, he became a technical advisor to the Ministry of Livestock in Mali, working in positions of increasing responsibility and was eventually named deputy director general of the Libyan-Malian Society of Livestock Development in 1987. The following year Coulibaly moved up to minister of finance and trade in 1988 during the regime of Gen. Moussa Traoré. Coulibaly remained in that post until a 1991 revolution, when he was arrested by the new government for economic crimes. He was acquitted of all charges in 1993.
He later worked as an advisor to a group attempting to restructure Mali's cotton industry, the fiber being one of the country's leading exports. By 2008 Coulibaly was chief executive officer of the Textile Development Company of Mali.
He rejoined the government as finance minister in April 2012 and inherited a tough job. A coup d'état combined with Islamic extremists taking over the northern part of Mali dried up foreign aid and tourism. In December 2012, as Mali was about to have an election, Coulibaly was demoted to economy minister because he wouldn't sign off on loan agreements with a Chinese bank favored by President Dioncounda Traoré. The International Monetary Fund praised Coulibaly's stewardship, saying he was "enforcing strict spending discipline."
Coulibaly is married and has four children.
-Steve Straehley
To Learn More:
Official Biography (French)