Malaysia's Ambassador to the United States: Who Is Awang Adek Hussin?
Sunday, September 07, 2014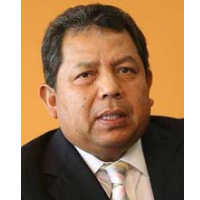 Awang Adek Hussin was credentialed as ambassador to the United States on March 31, 2014. It's the first ambassadorial post for Awang Adek, who previously served in his country's parliament.
Awang Adek was born May 18, 1955, in the province of Kelantan, the third child and oldest son of Hussin Mamat and Mek Wok Noor. Awang Adek attended school there before going to boarding school at School of Tuanku Abdul Rahman in Perak.
He traveled to the United States for his college education, graduating from Drew University in 1977 with a B.A. in mathematics and economics, and then earning master's and doctoral degrees in economics from the Wharton School at the University of Pennsylvania.
In 1983, he began his career as a lecturer of economics at the Universiti Saines Malaysia. After two years, Awang Adek joined Bank Negura Malaysia, the country's central bank. He began in the bank's economics unit, becoming director of that department in 1992, and in 1994 being named director of the Department of Banking Supervision. In 1996, Awang Adek was named assistant governor of the bank.
Awang Adek left the bank in 2001 to move into politics. He was appointed in 2002 as chariman of Tenaga Nasional Berhad, the country's national electric utility. In 2004, Awang Adek won a seat in parliament from his native Kelantan and was shortly thereafter appointed deputy minister of rural and regional development. He moved to deputy finance minister in 2006.
Awang Adek had hoped to be appointed Menteri Besar, or chief minister, of Kelantan if he was successful in the 2008 election, but he was defeated. He was appointed as a senator in 2009, maintaining his post as deputy finance minister. He was reappointed to the Senate seat in 2012.
Awang Adek served as a director of several Malaysian companies before being named ambassador. He and his wife, Latifah Mohd Yusof, have five children.
-Steve Straehley