Liechtenstein's Ambassador to the United States: Who Is Kurt Jaeger?
Sunday, December 04, 2016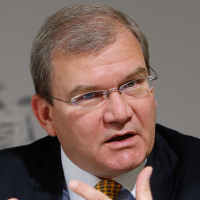 Kurt Jaeger
Kurt Jaeger presented his credentials as Liechtenstein's ambassador to the United States on September 16, 2016. It's his second such posting.
Jaeger was born November 25, 1961, in Grabs, Switzerland, just across the border from Liechtenstein, and can trace his roots in the principality to the 1600s. He grew up in Africa, where his father, also named Kurt, was a pilot and airline manager before returning to Europe to begin a career as a novelist. The younger Jaeger attended middle school in Vienna before going to high school in Switzerland and Liechtenstein. He went on to earn a law degree at the University of Fribourg, Switzerland, in 1987 and an LL.M. from Montreal's McGill University in 1989.
After graduating from McGill, Jaeger followed his father into the aviation industry, starting out working as counsel for Avtec, which dealt in spare parts for airplanes. In 1990, he joined the Swiss Federal Office for Civil Aviation, first working on international air transport regulation and in 1994 as the executive assistant and general counsel to the Director General for Civil Aviation.
Jaeger briefly was in private law practice in Liechtenstein beginning in 1996, but the following year joined the regional airline Crossair as secretary to the board of the directors and general counsel to the CEO. In 2000, he moved to the aviation IT company Atraxis Management Services in Zurich as a vice president but moved to Swiss International Air Lines the next year as vice president for aeropolitical affairs. There, he worked on the dissolution of Swissair and the formation of Swiss International as a subsidiary of Germany's Lufthansa.
Jaeger left Swiss in 2005 to become a member of the board of the European Free Trade Association, comprising Liechtenstein, Norway, Iceland and Switzerland. In 2010, he was named ambassador to Belgium and the European Union, a post he held until coming to Washington.
Jaeger is married and has one child. He enjoys mountain hiking and wine.
-Steve Straehley
To Learn More:
"Smallness Has its Advantages": His Excellency Kurt Jaeger and the Principality of Liechtenstein (United States Association of Former Members of Congress)