Latvia's Ambassador to the United States: Who Is Andris Teikmanis?
Sunday, December 18, 2016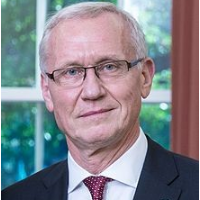 Andris Teikmanis
Andris Teikmanis, a longtime member of Latvia's foreign ministry, presented his credentials as his country's ambassador to the United States to President Barack Obama on September 16, 2016.
Teikmanis was born in Riga, Latvia, on November 29, 1959, to Gunars and Veronika Teikmanis. He studied law at Latvian State University, graduating in 1983.
Teikmanis went to work as a police investigator, then in 1988 became a judge. He was recognized by human rights activists when he found protesters against the Soviet-backed regime not guilty for their part in a non-approved demonstration. In 1990, Teikmanis won a seat on the Riga City Council and beginning in 1992 served as the city's mayor. He also was a member of the supreme council of Latvia and was one of the signatories of the country's declaration of restoration of independence from the Soviet Union.
In 1994, Teikmanis was named as Latvia's ambassador to the Council of Europe as his country began to integrate with other European nations. He was made ambassador to Germany in 1998.
Teikmanis returned home in 2002 as under secretary of state in the foreign ministry, where he was in charge of Russian-Latvian relations. In 2005, he was named ambassador to Russia, at one point angering Moscow with a quote in a Latvian magazine saying the "Russian state is unfriendly to Latvia." In 2008, he was giving a press conference in Moscow when he was splattered with fruit juice by two members of the National Bolshevik Party protesting the detention of their leader by the Latvian government.
He returned to Riga later that year as secretary of state, the chief administrator of the foreign ministry. In 2013, Teikmanis was sent to London as ambassador to the United Kingdom, with concurrent credentialing to Australia and New Zealand, where he served until being sent to Washington.
Teikmanis and his wife, Inguna, have two children, Ieva and Oscar. Teikmanis speaks English, German, French and Russian. He enjoys opera, theatre, cycling and jogging.
-Steve Straehley
To Learn More:
Official Biography (pdf)