Kenya's Ambassador to the United States: Who Is Robinson Njeru Githae?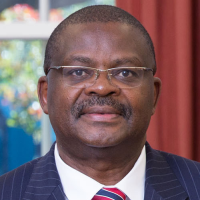 Robinson Njeru Githae was appointed to be ambassador to the United States by Kenyan President Uhuru Kenyatta on August 14, 2014, and Githae presented his credentials to U.S. President Barack Obama on November 18, 2014. It's the first diplomatic posting for Githae.
Githae was born in 1957 to parents who were teachers. He went to secondary school first at Maseno, then at Kangaru National School. He earned a Bachelor of Laws degree in 1980 at the University of Nairobi and went on to get his law degree at Kenya School of Law in 1981.
He then began work in the financial industry, first as company secretary at Diamond Trust Bank and moving to a similar position in 1986 at CFC Bank. In 1991, he was made general manager at Pan African Insurance, where he worked until 2001.
Githae went into politics, winning a seat in Parliament from Ndia in 2003. He was appointed assistant minister for justice and constitution and was traveling on official business in January of that year when he was injured in a plane crash that killed Labour Minister Ahmed Mohamed Khalif.
The following year, Githae committed somewhat of a gaffe. When asked for advice for starving Kenyans, Githae replied that they should change their diets and eat ants, roots and other foods to survive.
In 2006, Githae was made assistant minister for transport and in 2008 he was assistant minister for local government. He stepped up to become minister for metropolitan development in 2010 and in 2012 was made finance minister. He served in that post about a year before he was forced out after suggesting that Members of Parliament pay income taxes.
In January 2014, Githae was defeated in his bid to be elected governor of Kirinyaga County, losing in the TNA party's primary to eventual winner Joseph Ndathi.
Since taking up the Washington post, Githae has worked for the establishment of direct flights from Kenya to the United States by Kenya Airways, which would boost tourism and the export of cut flowers from the East African nation. He has also defended a controversial security law that was enacted in December, but some sections of which were suspended by Kenya's High Court on January 2, 2015.
Githae and his wife Alice have two sons, Solomon and Geoffrey. A third son, Brian, committed suicide in May 2012 while a college student. Githae's cousin, Micere Githae Mugo, is a poet, literary critic and professor of literature at Syracuse University. She was forced into exile in 1982 for activism against the regime of Daniel Arap Moi.
-Steve Straehley