Jamaica's Ambassador to the United States: Who Is Ralph Thomas?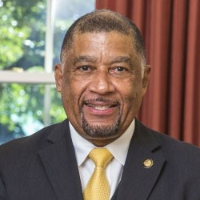 Ralph Thomas
Ralph Samuel Thomas, who was previously Jamaica's ambassador to China, took over on September 8, 2015 as his country's ambassador to the United States. He is also Jamaica's permanent representative to the Organization of American States.
Thomas' background is in banking, not diplomacy. He attended Glenmuir High School, then earned a B.A. at the University of the West Indies in 1976.
In 1981 Thomas began a long career in the United States with the Bank of New York. Along the way, he earned an MBA at Columbia University, graduating in 1990. He also received special training in financial analysis and policy from the International Monetary Fund Institute.
Thomas continued to work at the Bank of New York until 2003, eventually serving as vice president and regional manager. Beginning in 2004, he worked independently in the banking industry.
Thomas took time out in 2007 to run for parliament in Jamaica. He was the candidate of the People's National Party for a seat from North Central Clarendon, but lost.
In 2010 he returned to the University of the West Indies as a senior teaching fellow in the Mona School of Business and Management.
Thomas served as director of several state agencies in both Jamaica and New York, including the Urban Development Corporation, the National Insurance Fund Board, Jamaica Financial Services Authority, and the Mental Health Association of Westchester in New York. He was also chairman of the Micro Investment Development Agency, which worked with the Jamaican government to lend money to start small businesses in the country.
Thomas was tapped in 2013 to be Jamaica's ambassador to China. In that post, he also served as non-resident ambassador to the Democratic People's Republic of Korea and Vietnam, and as non-resident high commissioner to Pakistan, Singapore, and Bangladesh.
Thomas remained in China throughout that ambassadorship until being transferred to Washington. He replaces the previous ambassador to the U.S., Professor Stephen Vasciannie, who chose not to renew his three-year contract.
Thomas now spends much of his time trying to strengthen ties between Jamaica's diaspora in the United States, of which he was once a member, and their home country.
Thomas and his wife, Sandra Dixon Thomas, have four children: Ralph Jr. Amanda, Bianca and Malika.
-Steve Straehley
To Learn More:
Official Biography (pdf)
US-Jamaicans Welcome Ralph Thomas's Appointment (Jamaica Observer)