Iceland's Ambassador to the United States: Who Is Geir Haarde?
Saturday, February 14, 2015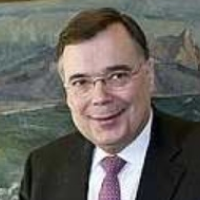 Geir H. Haarde took over as Iceland's ambassador to the United States on January 1, 2015. It's the first ambassadorial post for Haarde, who served as his country's prime minister from 2006 to 2009.
Haarde was born in Reykjavik, Iceland, on April 8, 1951. His father, Tomas, was from Norway, which accounts for Haarde's name not conforming with normal Icelandic tradition and law. Most Icelanders' names are patronymics, meaning they're a derivation of their father's first name.
Haarde earned a Wien Scholarship, reserved for foreign students, to Brandeis University. He graduated in 1973 with a B.A. in economics. He remained in the United States for further study, attending Johns Hopkins University and earning an M.A. in international relations in 1975 and continuing with another M.A., this one in economics from the University of Minnesota in 1977.
When Haarde returned to Iceland, he worked as an economist in the international department of his country's central bank. He left that post to get into politics in 1983 as the political advisor to Iceland's finance minister.
Haarde was elected to the Althing, Iceland's legislature, himself in 1987. He was a member of the right-of-center Independence Party. In 1995 he was made chairman of the Althing's foreign affairs committee and in 1998 moved into the cabinet as finance minister, a post he held until 2005, when he was moved over to Foreign Affairs Ministry.
The following year, Haarde, long an advocate of privatizing government enterprises, was elected prime minister, taking over in June 2006. That came at a time when Iceland's economy was thriving and held out as a model for other nations. The global financial crisis of 2008 hit Iceland particularly hard, however. The country's banking system had been deregulated in 2001 and by 2008 was in ruins, with the three major banks unable to finance their debt of almost $80 billion, the equivalent of more than $250,000 per person in Iceland. Because the debt of these private banks was so great, they could not be bailed out. Instead, they were nationalized.
The crisis drew calls for Haarde's resignation and he left office in January 2009, ostensibly for treatment for esophageal cancer. He was subsequently indicted for being negligent in his handling of the banking crisis. In April 2012, he was found not guilty of all but one charge—failing to keep his cabinet informed of developments—for which no penalty was levied. Haarde has appealed that conviction.
After leaving office, Haarde worked as a consultant with Icelandic law firms until his appointment as ambassador.
Haarde is married to another politician, Inga Jona Thordardottir, a former member of the city council of Reykjavik. He has five children.
-Steve Straehley
To Learn More:
Geir Haarde (Wikipedia)