Honduras' Ambassador to the United States: Who Is Jorge Milla Reyes?
Saturday, October 04, 2014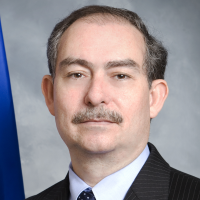 Jorge Alberto Milla Reyes, who had been deputy chief of mission in his country's Washington embassy, took over as Honduras' ambassador to the United States in May 2014.
Milla Reyes has a degree in law and social sciences from Universidad Nacional Autónoma de Honduras, a diploma in international studies from Escuela Diplomática de España and a Doctor of Laws from Universidad Latinoamericana De Ciencia Y Tecnología, completing work he'd begun at Universidad Complutense de Madrid.
From 1979 to 1982, Milla Reyes worked for a law firm in Tegucigalpa, Honduras. After joining the Foreign Ministry, Milla Reyes' overseas postings included being officer in charge of consular affairs in Spain, El Salvador, Mexico and Nicaragua.
In 2002, Milla Reyes was named Honduras' ambassador to Ecuador and in 2004 his responsibilities were expanded to include Bolivia. He was named ambassador to Nicaragua in 2005, serving there until a coup d'état brought a change in his country's administration in 2009.
Milla Reyes was sent to Washington the following year, first as minister of human rights at the Honduran embassy and Honduran representative to the Organization of American States, then as deputy chief of mission and finally as ambassador.
Since taking over his country's mission, much of his time has been spent protecting the interests of the immigrants, both children and adults, who have come to the United States from Honduras. He has traveled to South Texas and spoken with many Hondurans who have made the trip north. In June 2014, he implied that U.S. treatment of Hondurans who fled their country for the United States had violated "some norms reflected in international treaties."
Milla Reyes has written a book, Costa Rica y Nicaragua: Historias de un Arreglo de Fronteras (History of the Borders). He and his wife, Maria Teresa Espino, have two sons, Juan and Alejandro.
-Steve Straehley
To Learn More:
Official Biography (Spanish)