Ghana's Ambassador to the United States: Who Is Joseph Henry Smith?
Saturday, January 03, 2015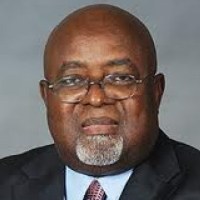 Ghanaian President John Dramani Mahama appointed Lt. General Joseph Henry Smith, a former career member of his country's military and Defense Minister, to be Ghana's ambassador to the United States in September 2014.
Smith was born January 9, 1945, in Takoradi, Ghana. Like former U.N. Secretary-General Kofi Annan, he is a member of the Fante people. Smith attended secondary school at Achimota School, graduating in 1963, and went on to attend Ghana's military academy. He graduated in 1965 and immediately went into Ghana's Army corps of engineers.
Smith worked his way up the ladder in the Army, returning to the military academy as an instructor in 1973 and serving in Egypt as part of a United Nations force in 1976. The following year, he was named as assistant deputy secretary of the Supreme Military Council and in 1980 he went on staff at the Ghana Armed Forces Command and Staff College.
Smith was named director of military training at force headquarters from 1984 to 1985, when he became the director of military operations at the force headquarters and then chief staff officer at the Army headquarters in 1987, serving in that position until 1988. He then went to the United States as Ghana's military attaché and was also accredited to Canada and his country's U.N. mission on peacekeeping issues.
Smith came home in 1992, initially as commander of the 1st Infantry Brigade Group and later that year as commandant of the military academy and training schools. In 1993 he was named commander of the 2nd Infantry Brigade Group and participated in the ethnic conflict in Northern Ghana involving three tribes in 1994.
Smith was named chief of staff of the army in 1996, serving until his retirement from the armed forces in 2002. He was appointed chairman of the board of the National Insurance Commission in 2002, where he remained until being made defense minister in 2009. While in that post, Smith oversaw the purchase of military equipment from nations around the world, including Russian helicopters and ships from China and Germany. He also set up the Defence Industry Holding Company to create joint business ventures between the military and private investors, including those from abroad. He stepped down in 2012.
Smith and his Egyptian wife, Douha, have two sons. He also has two sons and a daughter from a previous marriage. His brother, Emmanuel Victor Smith, serves as Ghana's High Commissioner to the United Kingdom. Smith is a convert to Islam.
-Steve Straehley
To Learn More: