Egypt's Ambassador to the United States: Who Is Yasser Reda?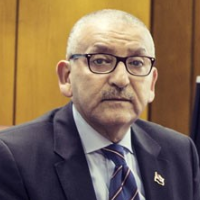 Yasser Reda
Yasser Reda, a longtime member of his country's foreign service, took over as Egypt's ambassador to the United States on September 17, 2015. It's his second such post.
Reda was born in 1958. His father was an officer in Egypt's army. Reda earned a B.A. in commerce at Cairo University and soon thereafter joined the Ministry of Foreign Affairs, with some of his early postings in Italy, Iraq, Cyprus and China.
Reda was deputy chief of mission in Berlin in 2004 when then-Egyptian President Hosni Mubarak came to Germany for back surgery and Reda dealt with the publicity surrounding that. In 2006, he returned to Egypt for his first stint as Assistant Minister of Foreign Affairs and chief of the minister's cabinet.
Reda assumed a very sensitive assignment in 2008 when he was named ambassador to Israel. He was generally well thought of by members of the government there. Reda was recalled in 2011 by his government to protest the deaths of three Egyptian soldiers killed in a shootout involving Israeli troops. He did return to Tel Aviv to complete his term, however.
He served again as Assistant Minister of Foreign Affairs from 2013 until being named as ambassador to the United States.
Reda and his wife Nahla are popular in diplomatic social circles. Reda speaks English, French and Arabic.
-Steve Straehley
To Learn More: