Director of the U.S. Agency for International Development (USAID): Who Is Mark A. Green?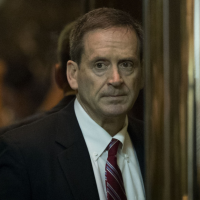 Mark A. Green (photo: Getty Images)
The next chief of the United States Agency for International Development (USAID) will be an ex-Congressman who helped create several global health programs that President Donald Trump now wants to cut or eliminate. Mark A. Green was nominated on May 10, 2017, to lead USAID. A formally independent agency that manages assistance to developing countries, USAID is facing a significant budget cut in Trump's proposed 28% reduction in FY2018 spending for diplomacy and foreign aid.
Mark Andrew Green was born June 1, 1960, in Boston, Massachusetts, to Jeremy and Elizabeth Green. His father was a physician, originally from South Africa, whose career caused the family to relocate often, so he lived in Jersey City, New Jersey; Cincinnati, Ohio; Belfast, Northern Ireland; London, United Kingdom; South Africa; and Melbourne, Australia. He graduated Abbot Pennings High School (then a Catholic boys school, but since 1990 the coed Notre Dame de la Baie Academy) in De Pere, Wisconsin, in 1978.
Green earned a B.A. in English and Political Science at the University of Wisconsin–Eau Claire in 1983 and a J.D. at the University of Wisconsin–Madison in 1987. He served as a managing editor of the Wisconsin Law Review and won the Justice Robert Jackson Award from the Washington, D.C., Foreign Law Society for "Best Published Student Writing on a Foreign Law Subject."
After law school, Green and his wife Susan (Keske), whom he had married in 1985, served as volunteer teachers in Kenya with WorldTeach, a nonprofit that provides volunteer teaching opportunities in developing countries, in 1987 and 1988.
Green then joined the Green Bay office of the Milwaukee-based law firm Godfrey & Kahn S.C., remaining there for a decade until his election to Congress in 1998.
In 1992, Green won a seat in the Wisconsin State Assembly as a Republican, serving for six years and rising to be chairman of the Republican Caucus. He chaired the Judiciary Committee and served on the board of the Wisconsin Housing and Economic Development Authority. He backed an amendment to the Wisconsin Constitution to ban gay marriage and supported reinstating the death penalty in Wisconsin. He also sponsored a bill banning the importing of Asian carps as a threat to the local fishing industry. From 1995 until 1998, Green was Wisconsin state chairman of the American Legislative Exchange Council (ALEC), which prepares pro-big business bills for state legislators.
Green won a seat in Congress in 1998, defeating one-term Democratic incumbent Jay Johnson with 54% of the vote. That year, he was the only Republican to unseat a Democratic incumbent. Green represented Wisconsin's 8th District for eight years. Green supported the wars on Afghanistan and Iraq, and co-founded the Victory in Iraq Caucus in 2005. In 2004, he also co-founded the Faith-Based Caucus, which backed efforts to relax church-state separation problems so that church-affiliated social programs could get federal money.
A member of the House International Relations Committee from 2001 to 2006, Green supported several bills involving international health and development that President Trump now wants to cut or eliminate, including the Millennium Challenge Act; the Global Access to HIV/AIDS Prevention, Awareness and Treatment Act of 2001; and the U.S. Leadership Against HIV/AIDS, Tuberculosis and Malaria Act.
In 2006, Green gave up his seat in Congress to run for Governor of Wisconsin against incumbent Democratic Governor Jim Doyle, to whom he lost 53%-45%.
A few months later, in June 2007, President George W. Bush picked Green to be the next ambassador to Tanzania. Confirmed on August 3, 2007, Green served in Dar es Salaam for 18 months, resigning in January 2009 upon the inauguration of Barack Obama as president.
Since 2009, Green has focused on international health and development, starting as a director of the policy center of Malaria No More, a Washington, D.C.-based global effort to eliminate malaria, from 2009 to March 2011.
From March 2011 to January 2013, Green served as a senior director at the U.S. Global Leadership Coalition (USGLC), a bipartisan foreign policy foundation that educates and advocates for increased U.S. diplomatic and development efforts.
In February 2013, Green was named president & CEO of the Initiative for Global Development, a nonprofit made up of corporate CEOs and the like that advocates reducing world poverty.
Since January 2014, Green has been president of the International Republican Institute (IRI), a nonprofit funded by USAID and the State Department that claims to support the development of democratic institutions around the world. Although not funded by the Republican Party, IRI has been staffed and run mostly by Republicans, and has been criticized for promoting conservative political goals rather than democracy.
Green has also served on several nonprofit boards, including the Board of the Kupona Foundation, a nonprofit that supports disability and rehabilitation services in Tanzania, from 2009 to June 2012. He has also served on the boards of directors of WorldTeach since March 2010, and of the Millennium Challenge Corporation from December 2010 until June 2016.
Green has continued to be an enthusiastic supporter of ALEC. In 2012, he was named co-chair of ALEC's Federal Forum Task Force, dedicated to providing written arguments in favor of ALEC's initiatives on a federal level.
Mark and Susan (née Keske) Green were married on August 5, 1985, and have three children.
-Matt Bewig
To Learn More:
Trump Nominee and Former Wisconsin Lawmaker Mark Green has Broad Support, but there's a Catch (by Matthew Lee, Milwaukee Journal Sentinel)
The End of Foreign Aid As We Know It: Trump Budget would Gut Development Assistance and f\Fold USAID into State (by Bryant Harris, Robbie Gramer, Emily Tamkin, Foreign Policy)
Former lawmaker Mark Green Finds Niche Fighting Malaria in Africa (by Craig Gilbert, Milwaukee Journal Sentinel)
IRI President Advocates Painstaking Groundwork of Democracy Promotion (by Michael Coleman, Washington Diplomat)
A Clear Voice on AIDS (by Mark Green, Devex)