Director of the Office of National Drug Control Policy: Who Is Michael Botticelli?
Monday, September 22, 2014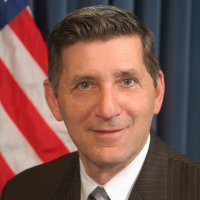 On August 28, 2014, President Barack Obama nominated Michael Botticelli to be the director of the Office of National Drug Control Policy (ONDCP), a job Botticelli has filled on an interim basis since March. If confirmed, he'd be the first director who wasn't a physician, law enforcement official or member of the military.
The son of John and Virginia Botticelli, Michael Botticelli was born January 2, 1958, in Troy, New York. He went to Siena College in nearby Albany, graduating with a B.A. in psychology in 1980. He continued his education at St. Lawrence University, earning a Master of Education there in 1981.
Botticelli says he's from a family with addiction problems. He followed the family tradition and was hooked on alcohol while still in high school. When he was 30 years old, Botticelli caused an auto accident in Massachusetts after drinking and woke up handcuffed to a hospital bed. He joined a 12-step program shortly thereafter and says he's been sober since then.
He worked for a time in the private sector, but in 1994 Botticelli joined the Massachusetts Department of Public Health (MPHS), initially as an alcohol program coordinator. In 1995 he was named contract coordinator in the department's HIV/AIDS Bureau and the following year was named that office's assistant director for policy and planning. Botticelli was named chief of staff in the MPHS Commissioner's office in 2000.
In 2003, Botticelli was named director of substance abuse services for the department. As director, he targeted teen addiction, introducing programs to cut drug and alcohol use in that age group.
Botticelli went to Washington in November 2012 as deputy director of ONDCP. Not long before being made interim director, he ran afoul of Rep. Earl Blumenauer (D-Oregon) during a Congressional subcommittee hearing. Blumenauer, who is hoping to change marijuana's status as a Schedule I narcotic, asked Botticelli which is more dangerous, marijuana or methamphetamine. Botticelli wouldn't give a straight answer and Blumenauer chastised him, saying "If a professional like you cannot answer clearly that meth is more dangerous than marijuana which every kid on the street knows, which every parent knows—if you can't answer that, maybe that's why you are failing to educate people about the dangers," he said. "I don't want kids smoking marijuana....But if the deputy director of the office of drug policy can't answer that question how do you expect high school kids to take you seriously?"
Botticelli is married to David Wells.
-Steve Straehley
To Learn More:
Drug Czar Approaches Challenge From A Different Angle: As A Recovering Alcoholic (by Katie Zezima, Washington Post)