Director of the National Security Agency: Who Is Michael Rogers?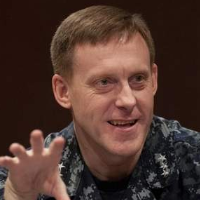 Admiral Michael S. Rogers took over April 2, 2014, as director of the National Security Agency (NSA) and head of the U.S. Cyber Command. In that role, Rogers will direct communications and data gathering and decoding. Rogers took charge of the agency as it was trying to recover from allegations of spying on Americans and foreign officials and the Edward Snowden revelations.
Rogers, 54, was born in Chicago and grew up in the suburb of Wilmette. He graduated from New Trier High School in 1977. He's not that school's most illustrious graduate; alumni also include former Defense Secretary Donald Rumsfeld, actors Charlton Heston, Rock Hudson and Bruce Dern and actress Ann-Margret. In Rogers' own graduating class were Chicago's current mayor, Rahm Emanuel, and Illinois' current junior senator, Mark Kirk.
Rogers' eventual career in cryptology was unlikely; Rogers confessed in an interview that he had hated math in high school. He attended Auburn University and was in its Reserve Officers Training Corps unit. He graduated from the business school there in 1981.
As a newly commissioned naval officer, Rogers' first assignment was as a surface warfare officer on the USS Caron, a Spruance-class destroyer working in combat gunfire support. In 1986, Rogers was switched from ships to codes, moving to cryptology.
Rogers' career took him to many postings after that, starting as an electronic warfare officer in Rota, Spain. From 1990 to 1993, he moved to the staffs of Commander in Chief, U.S. Atlantic Command and Commander in Chief, U.S. Atlantic Fleet as head of the Cryptologic Plans, Policy, Programs and Requirements branch.
He subsequently served as the staff cryptologist for Commander, Carrier Group Two/John F. Kennedy Carrier Strike Group, in the Bureau of Personnel in Washington, D.C., among other assignments. He was assigned to the Joint Staff in 2003, and served as head of the Computer Network Attack/Defense Branch.
In 2007, Rogers won his first star, being promoted to Rear Admiral (lower half) and being named Director of Intelligence for the U.S. Pacific Command. Two years later, he was named director of intelligence for the Joint Staff, earning another star in 2010. Rogers was named commander of Fleet Cyber Command/10th Fleet in 2011. That job came with a promotion to Vice Admiral. Rogers was named Admiral when he moved to the NSA.
Rogers and his wife, Dana, have two sons, Justin, who is a lieutenant in the Navy, and Patrick. .
-Steve Straehley
To Learn More:
NSA Nominee Michael S. Rogers Likely to Face Tough Questions on Surveillance (by Ellen Nakashima, Washington Post)
President Obama Taps Adm. Mike Rogers to Run NSA (by Philip Ewing and Darren Samuelsohn, Politico)