Director of the Foreign Service Institute: Who Is Nancy McEldowney?
Wednesday, March 08, 2017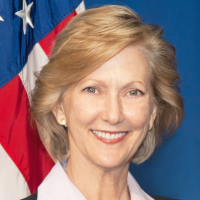 Nancy McEldowney, a former ambassador and career foreign service officer, took over as head of the Foreign Service Institute in February, 2013.
McEldowney is from Clearwater Beach, Florida, and graduated from Clearwater High School in 1976. She went on to St. Petersburg College, where she earned an associate's degree and then to New College in nearby Sarasota, where she graduated in 1981 with a B.A. in economics.
McEldowney subsequently earned a master's in international affairs from Columbia in 1986 and another master's degree from National Defense University (NDU).
McEldowney joined the State Department in 1986. Shortly thereafter, she accompanied President Ronald Reagan to the summit in Reykjavik, Iceland, with Soviet Premier Mikhail Gorbachev and in 1988 went on a similar assignment to Moscow.
Her early overseas assignments included postings to embassies in Cairo, Egypt and Bonn, Germany. In Washington, McEldowney worked in the Office of Soviet Affairs, the Office of European Security Affairs, the European Bureau and the Office of the Deputy Secretary. She also served in the Office of the Secretary of Defense at the Pentagon. She was also among the U.S. delegation to the Strategic Arms Reduction Talks with the Soviet Union in Geneva, Switzerland.
McEldowney served as deputy chief of mission in Baku, Azerbaijan from 2001 until 2004, with a stint as chargé d'affaires in 2003 and in similar roles in Ankara, Turkey from 2005 to 2008. She then was briefly the director of European affairs for the National Security Council before going to Bulgaria as ambassador in August 2008. Her stay there only lasted a year, however. In 2009, she was called back to Washington by then-Secretary of State Hillary Clinton to serve as principal deputy assistant secretary for European and Eurasian affairs. In this position, she found herself in the midst of a controversy when the government of Scotland released Pan Am 103 bomber Abdelbaset al-Megrahi on medical grounds when some believed the terrorist was not as sick as was claimed. On September 29, 2010, it fell to McEldowney to testify to the Senate Foreign Relations Committee that the Obama administration had opposed the release. Al-Megrahi died in Libya two years and nine months after his release.
Some of McEldowney's State Department cables, as released by WikiLeaks, are refreshingly blunt, although they were not so well-received by members of the governments of Turkey and Bulgaria.
McEldowney stepped away from direct diplomacy in late 2011 to become senior vice president of National Defense University until taking over the Foreign Service Institute in 2013. While at NDU, she served briefly as interim president.
McEldowney is married to Tim Hayes, a former Air Force fighter pilot who now works for the State Department. They have two daughters, Jessica and Alyssa.
-Steve Straehley
To Learn More:
Diplomat Will Share Florida's Beauty (by Terri Bryce Reeves, Tampa Bay Times)
State Department Cables 2005-2010 (WikiLeaks)